​Nepal Tourism Diary
by Hot Li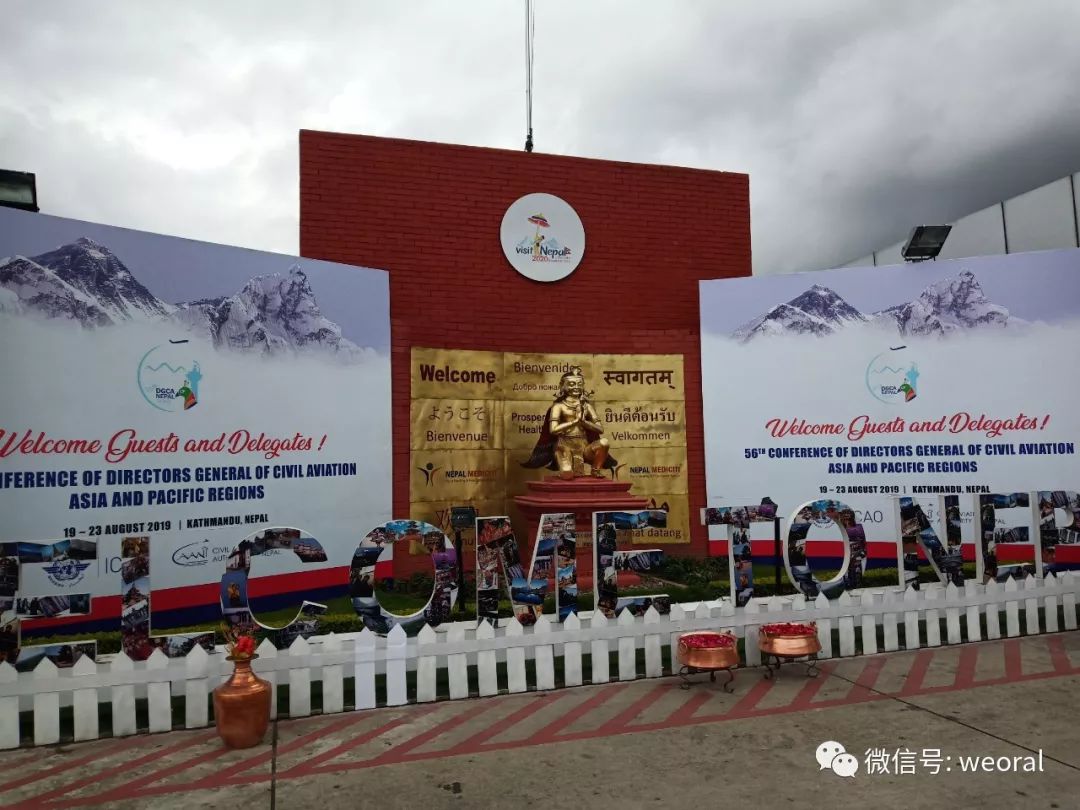 The deepest impression about Nepal is that this nation is very colorful and diversified. Why? The color of the houses are beautiful and their homes are painted by many kinds of colors. Why diversified? Even the locals, they look different, wear different because they are from different ethnic and religion background. The culture shocks for me are two points, on the one hand, the locals use their hand to grab food directly, I mean, food like rice, curry chicken, fried vegetable etc which we Chinese use chopsticks to get it. On the other hand, in the second biggest city Pokhara, you can pay the hotel when you check out, no matter how long you live, no need to pay any deposit, any cents at all when you check in. The following is the details.
我对尼泊尔最深的印象是宗教文化、五彩缤纷和多元化。宗教文化指的是当地人基本上都信教,所以他们都是诚实,人们之间相互信任。五彩缤纷指的是当地的房子都是涂成各种各样的颜色,格外特别。多元化指的是即便是尼泊尔当地人,他们看上去不一样、衣着不一样,因为他们来自不同的民族和宗教。就我而言,文化冲击有两个,一个是当地人用手抓着吃饭,比如米饭、咖喱鸡、炒菜等油乎乎的食物都是用手抓着吃,这些食物我们中国人都是用筷子夹着吃。另外一个是在尼泊尔第二大城市博卡拉住酒店时,无论你住多久,可以退房时再结账,办理入住手续时无须押金,无须花一分钱,看到当地人对游客的信任程度了吧?为什么,因为尼泊尔是一个宗教信仰国家,人们之间都是以诚相待。下面是具体行程。
August 16 Day 1, Me and my wife took airplane and arrived at Cathmandu airport at 15:30, Actually is 18:00 Beijing time because Nepal is 2.5 to 3 hours earlier than China. Took taxi to Anjit home near Boudhanath Stupa Temple. By the way, who is Anjit? I booked his home-stay on the internet before coming Nepal. Anjit was not at home when we reached there at 17:00, but let a friend open his home gate and let me wait in his living room, which shows his trust to a stranger. Anjit came back home at 20.00pm and he was very enthusiastic and friendly. He likes to make Chinese friends. He shared his hobbies and families and we talked a lot until ate evening, of course in English.
第一天,我和妻子乘坐飞机于当地时间15:30到达加德满都机场,实际上北京时间是18:00,因为尼泊尔比北京时间早两个半到三个小时。我们坐出租车去Anjit家,他家离博达那大佛塔很近。顺便说一下,Anjit是谁?他是我们去尼泊尔之前预定的家庭host主人。我们下午5:00到达他家,他不在家,他让他楼下的朋友开门,让我在客厅等他,要知道,我们素未谋面,可见他对陌生人也是非常信任的。他晚上20:00回到家,见到我们非常热情,他非常喜欢中国人,喜欢和中国人交朋友。他分享了他的业余爱好、家庭和工作等,我们谈了很久,直到深夜,当然是用英语交流的。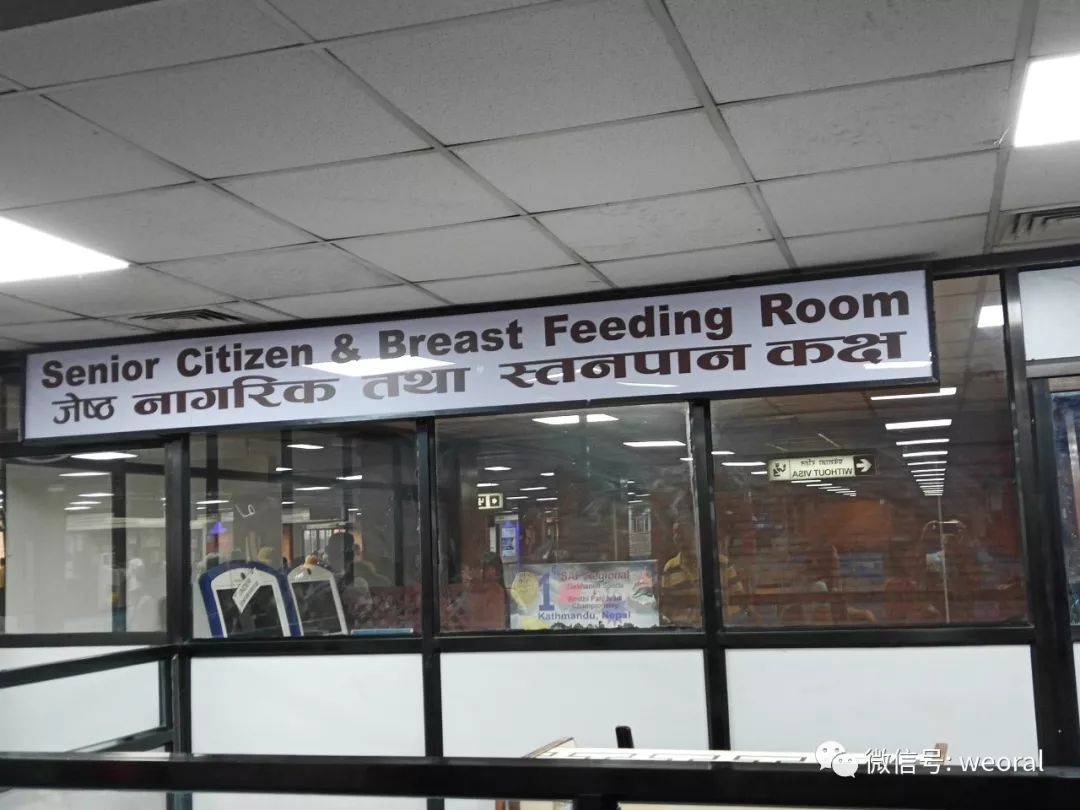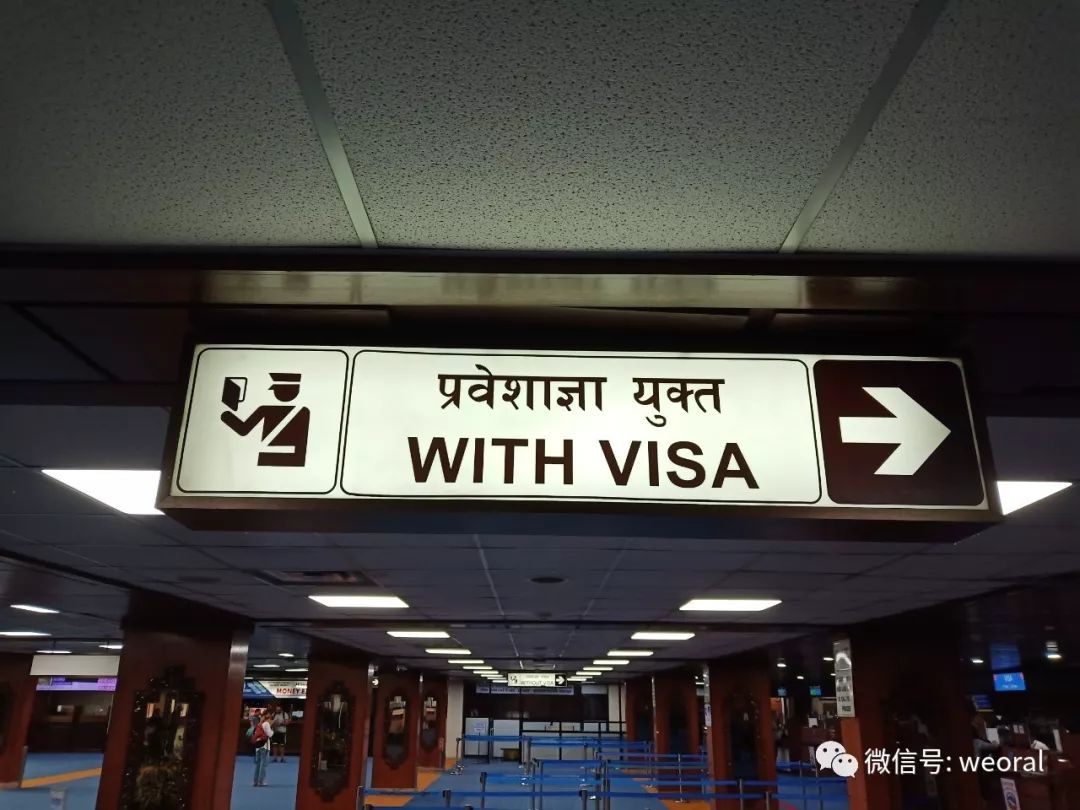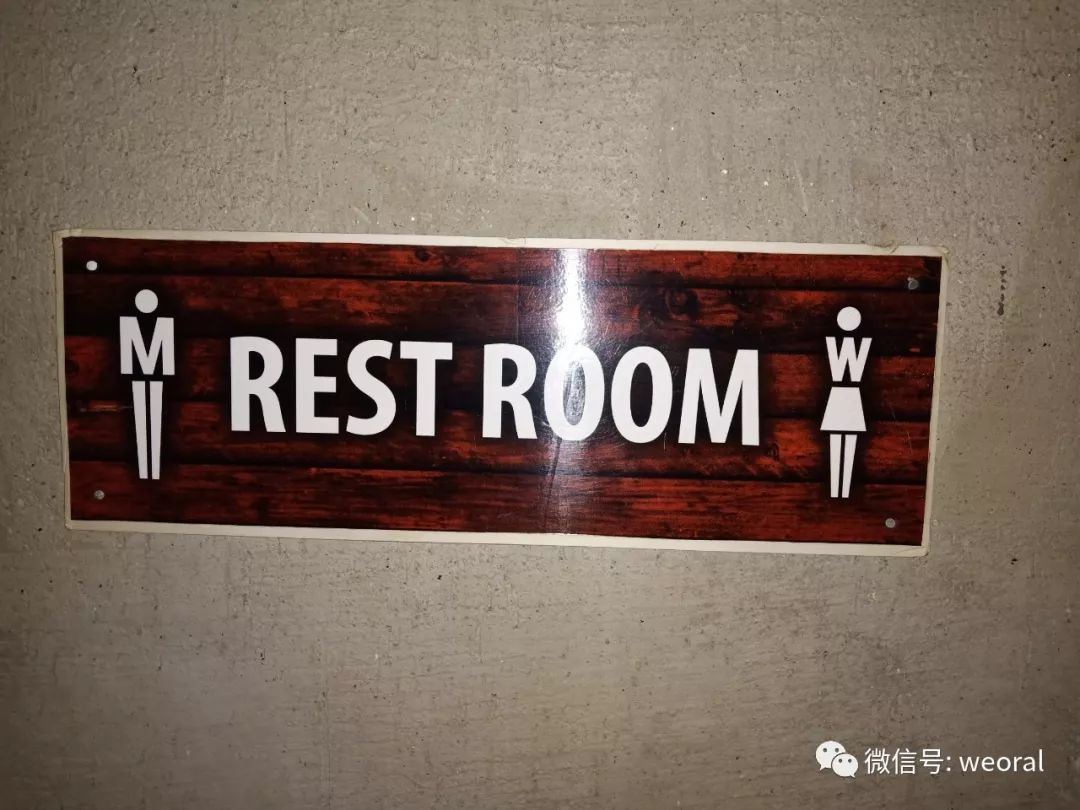 [切记: RESTROOM是洗手间的意思!]

August 17 Day 2, 7.00am We had local food for breakfast called roti like pie,which was quite yummy. Then we left Anjit home and checked in a local hotel. Then we visited the world heritage temple- Boudhanath Stupa. We were lucky enough because a festival was held that day, once a year. In the late afternoon, me and my wife went to Himalayan Java Coffee, which served authentic Nepali coffee since 1999, enjoyed local coffee and Boudhanath Stupa through the window.
第二天,我们吃一种叫roti的当地早餐,和国内的薄饼类似,很可口。然后,我们告别了Anjit,入住了一家当地酒店。然后,我们参观了世界文化遗产—博达那大佛塔。我们非常幸运,恰好那一天是当地人欢庆的一年一度的传统节日。下午,我和妻子去了创始于1999年的喜马拉雅Java咖啡店,我们品尝着正宗的当地咖啡,透过窗户欣赏着博达那大佛塔,就这样静静地坐着、品尝着、欣赏着,直到欢快的节日气氛打断我们的思绪。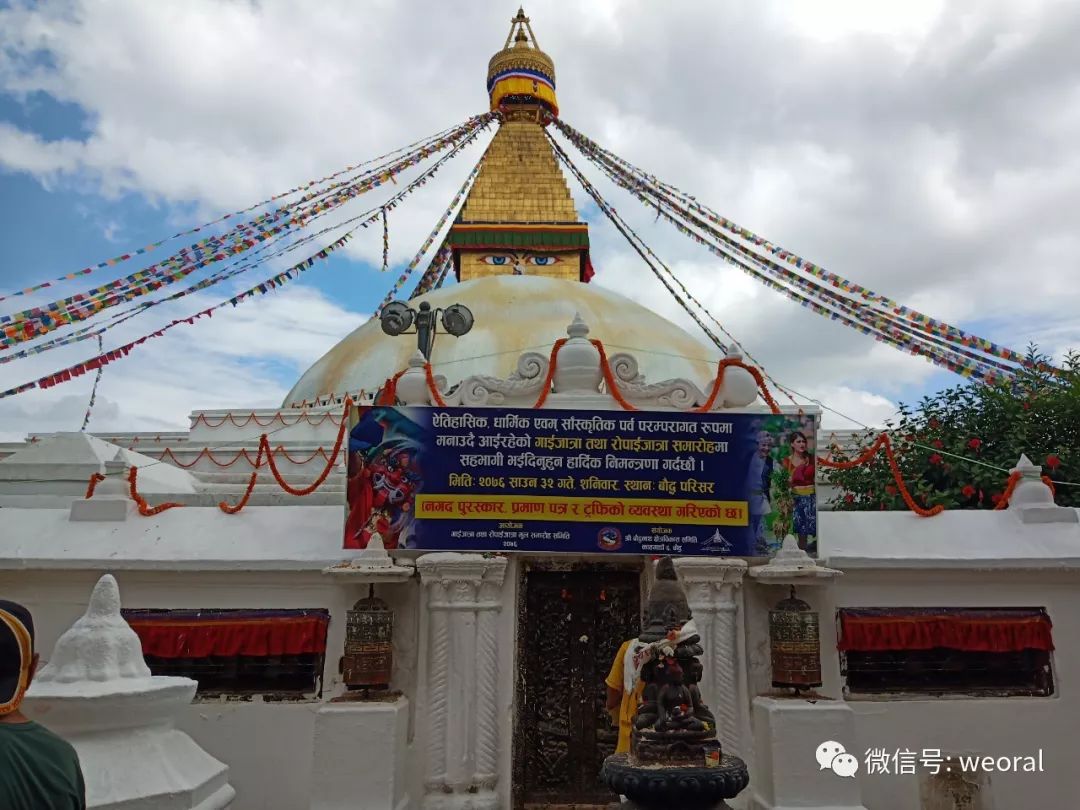 [Boudhanath Stupa]

Aug. 18 Day 3, Visited Pashupatinath Temple in the morning, where the dead corps were burned by traditional way. And many wild monkeys were there also, a great deal of Hindu religion believers went to the Temple to worship. At noon, we had local nepali food.
第三天,我们参观了Pashupatinath寺庙,在那儿,那些逝世的人以传统方式火化(以堆积的木材作为材料),游客在不远处可以看到现场。同时,那里有成百上千的猴子,都是野外的猴子,当地人不能杀生(除了猪、鸡和水牛,好像其他的动物不能杀,尤其是黄牛,因为黄牛是他们信奉的上帝骑的,这也是一些黄牛流浪街头无人问津、反而有人朝拜的原因),这个寺庙是Hindu印度教的教徒来朝拜的。中午,我们享用了当地尼泊尔菜。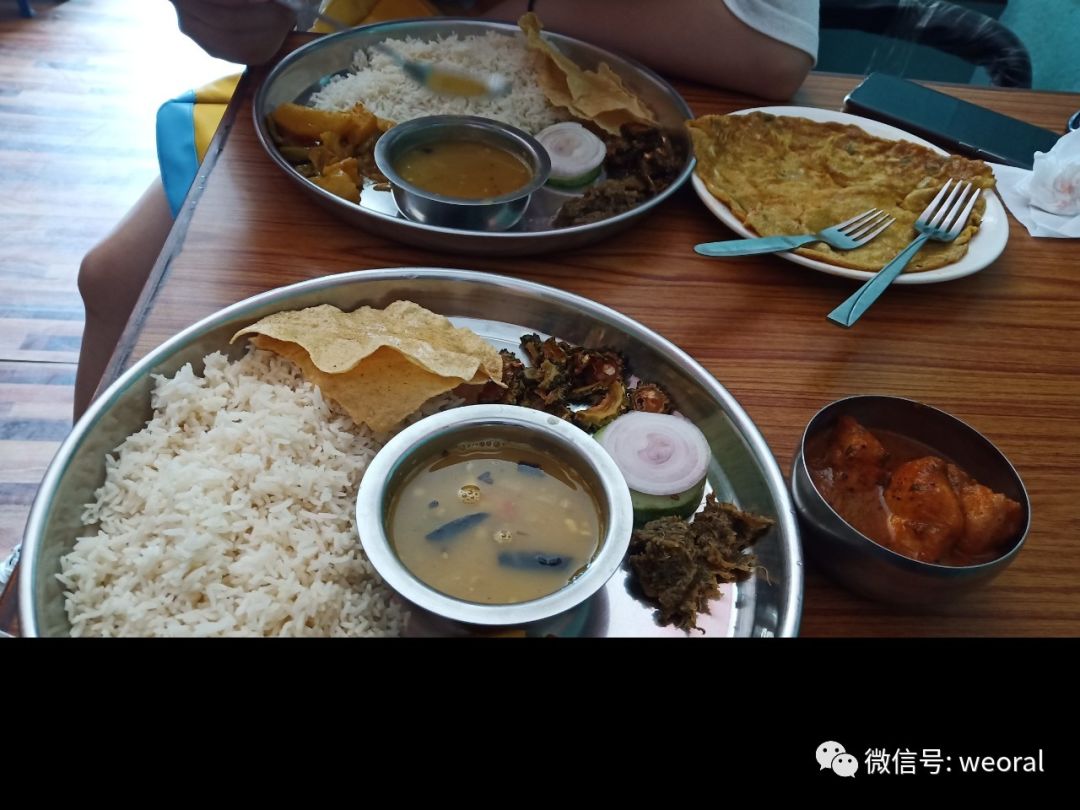 local nepali food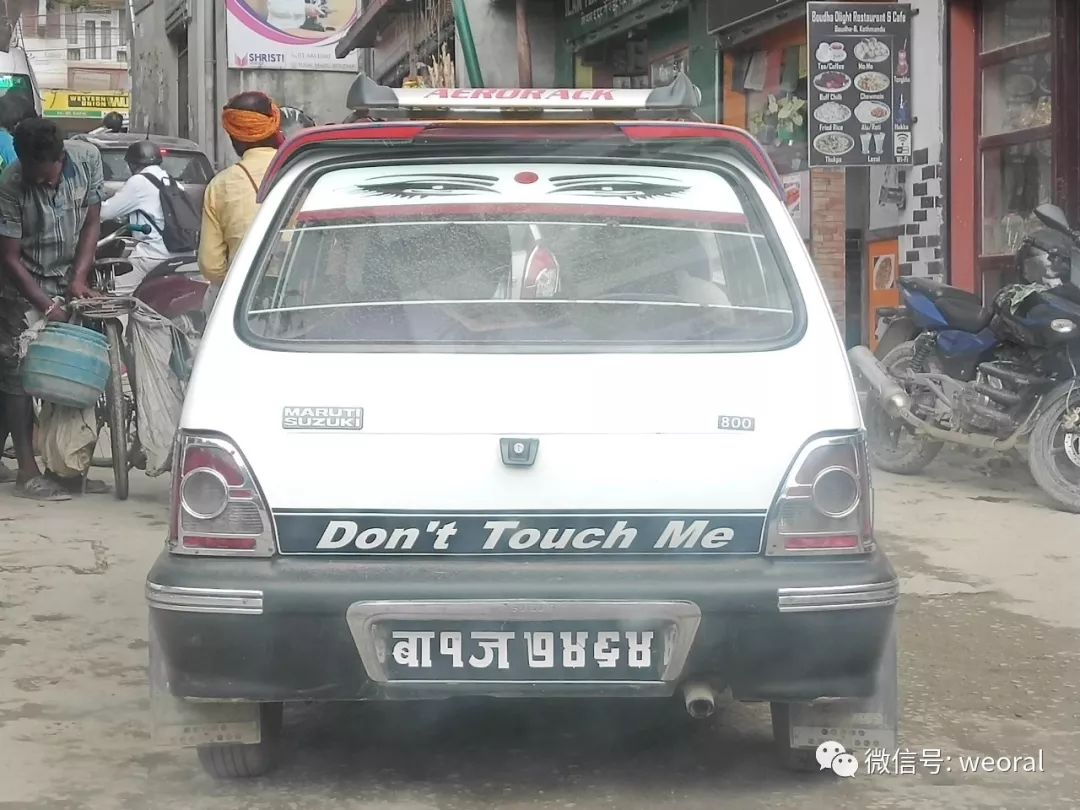 local taxi [Don't touch me 是什么意思?欢迎留言]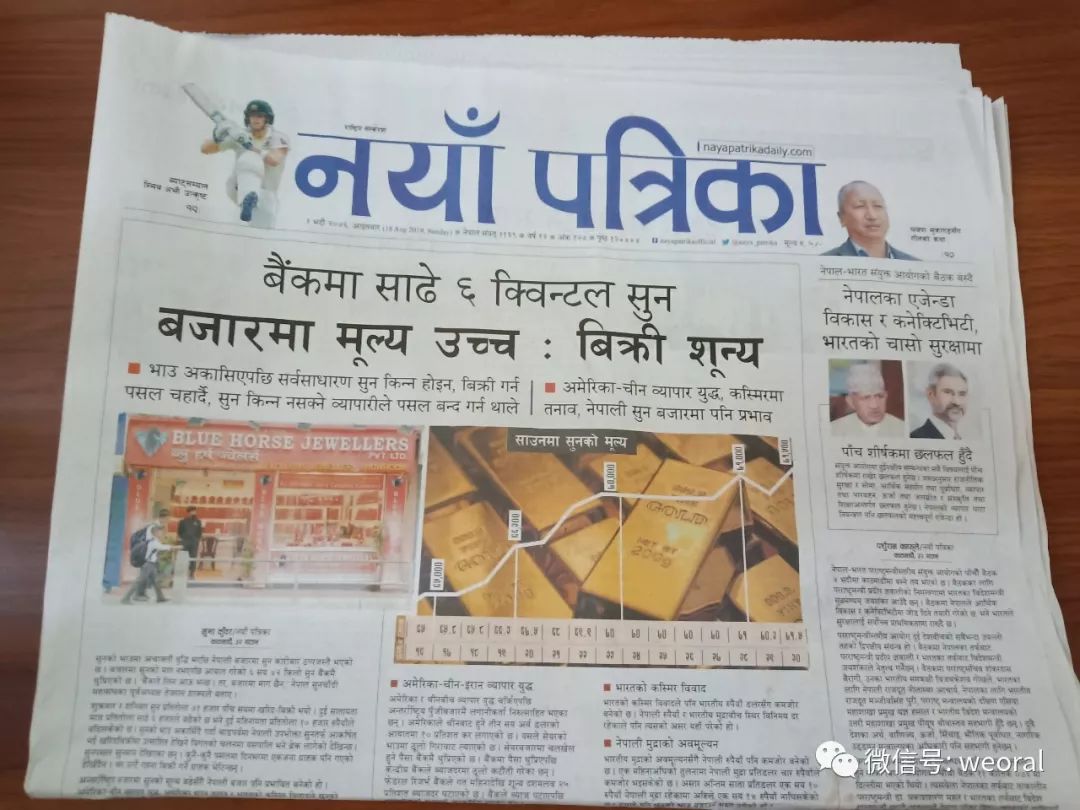 local newspaper

Aug 19 Day 4, Just hung out and walked around. Enjoyed great Nepali Food Set in the Garden Kitchen near Boudhanath Stupa. We had food really in a garden, which was so beautiful. See the picture as follows. In the afternoon, we went to a local big supermarket, where a great many organic products could be observed. In the evening, we went to NANI's Restaurant to enjoy the yummy soups.
第四天,尽情地悠闲地在周围漫步,让生活慢下来,慢慢品味当地文化和风俗,只有慢下来、静下心来,才能深入地了解当地文化。在Garden Kitchen花园餐厅品味当地美食,这家餐厅在一个非常漂亮别致的花园里,如下图。下午,我们去了当地的超市,那里有卖很多有机绿色产品。晚上,我们去了NANI's餐厅享用美味的晚餐。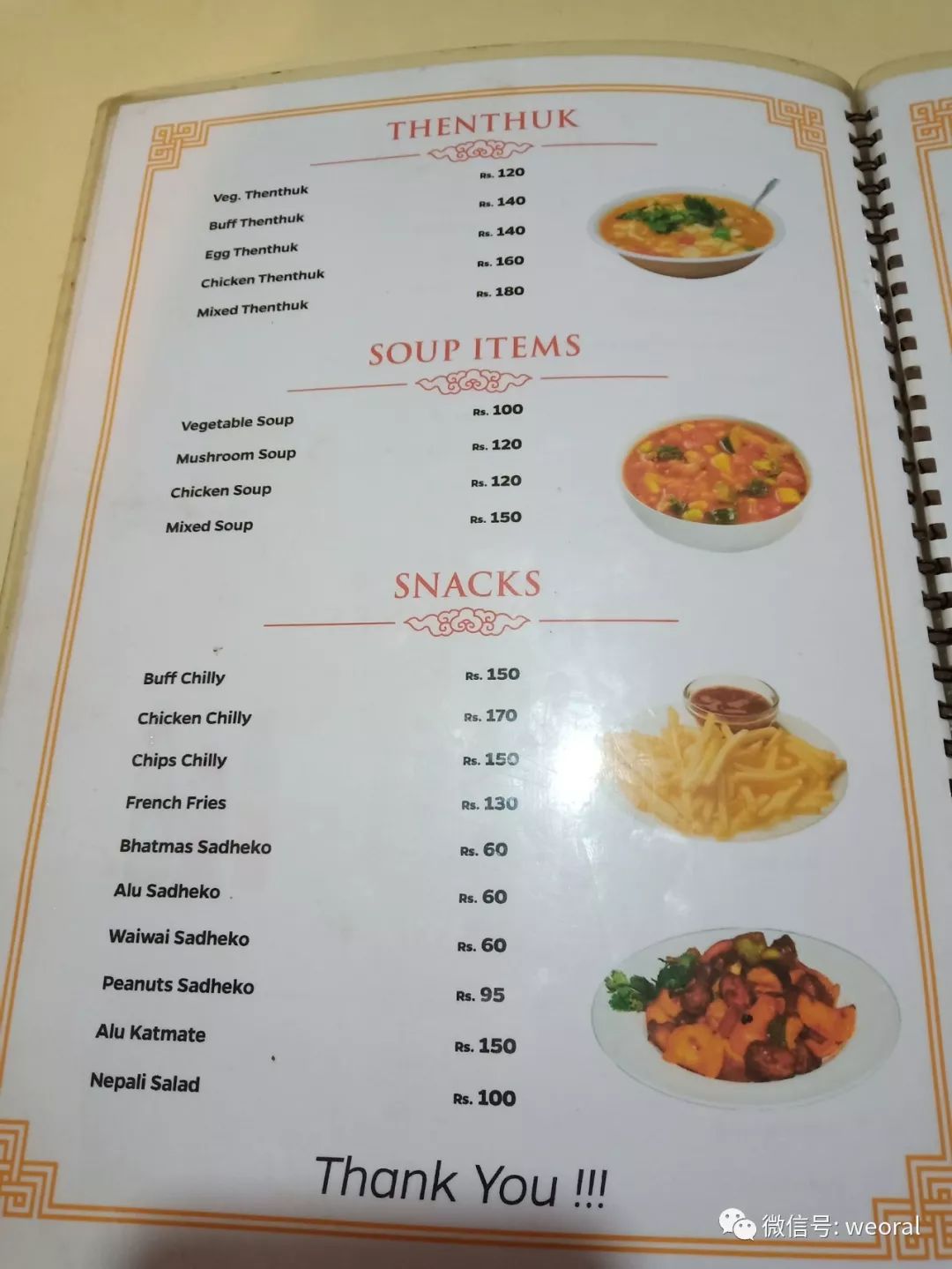 menu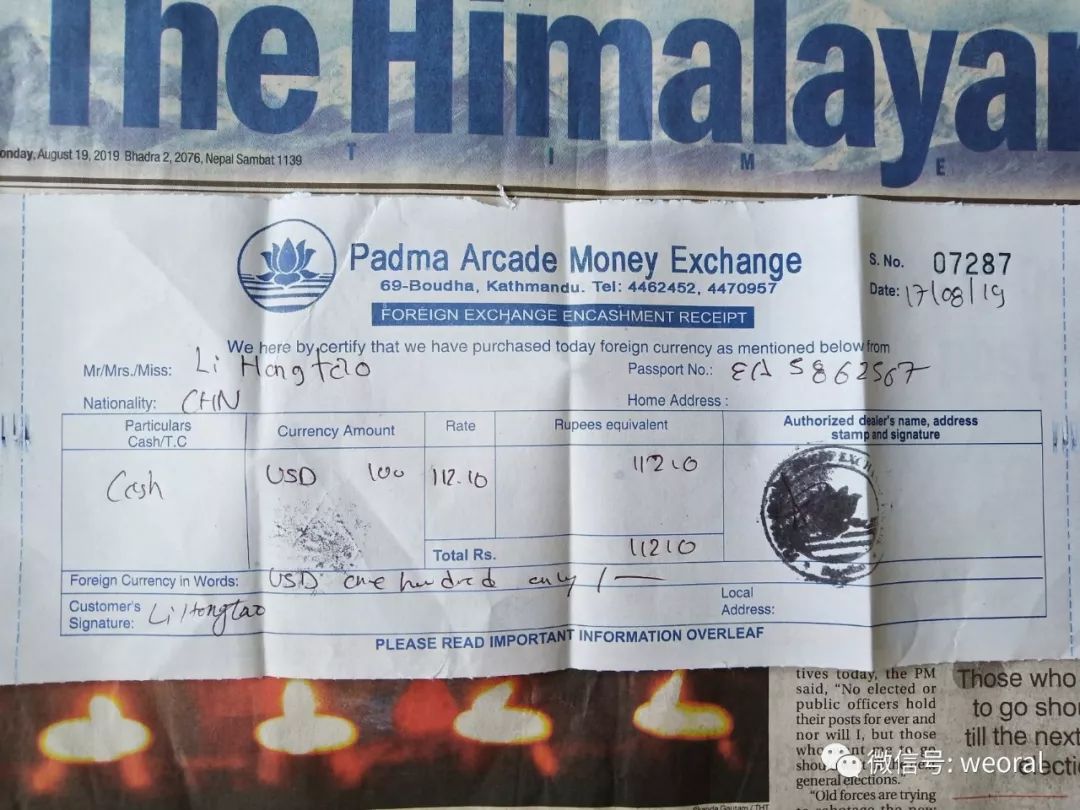 money exchange receipt

Aug 20 Day 5, Took bus to Pokhara, the second biggest city in Nepal, in the early morning. The hotel booked the taxi the day before, and the hotel security guard helped us carry the suitcases, and I gave him 100 Rupee tip. One the way, we saw so many colorful truck, which were decorated so beautiful! Amazing! We arrived at Pokhara at 3pm, checked in OYO Dream Inn hotel, had local Nepali food as the picture shows. This restaurant served Nepali, Thai, Indian, Continental food.

Local fruit seller.
第五天,一大早我们就乘坐大巴车去尼泊尔第二大城市博卡拉,相比加德满都,那儿更干净更漂亮。酒店前一天为我们预订了出租车,保安为我们提行李箱,我给了他100卢比小费,他很开心(顺便说一下,1人民币=16卢比)。一路上,我们看到了很多特别的卡车,为什么特别呢?所有卡车的车头都被装饰粉刷成漂亮的图案花纹,太漂亮了!我们下午三点到达博卡拉,入住OYO Dream 酒店,享用了当地美食。这家餐馆有尼泊尔菜、泰国菜、印度菜和欧式西餐。在餐馆里,我顺便拍到了小巷子里的水果商贩!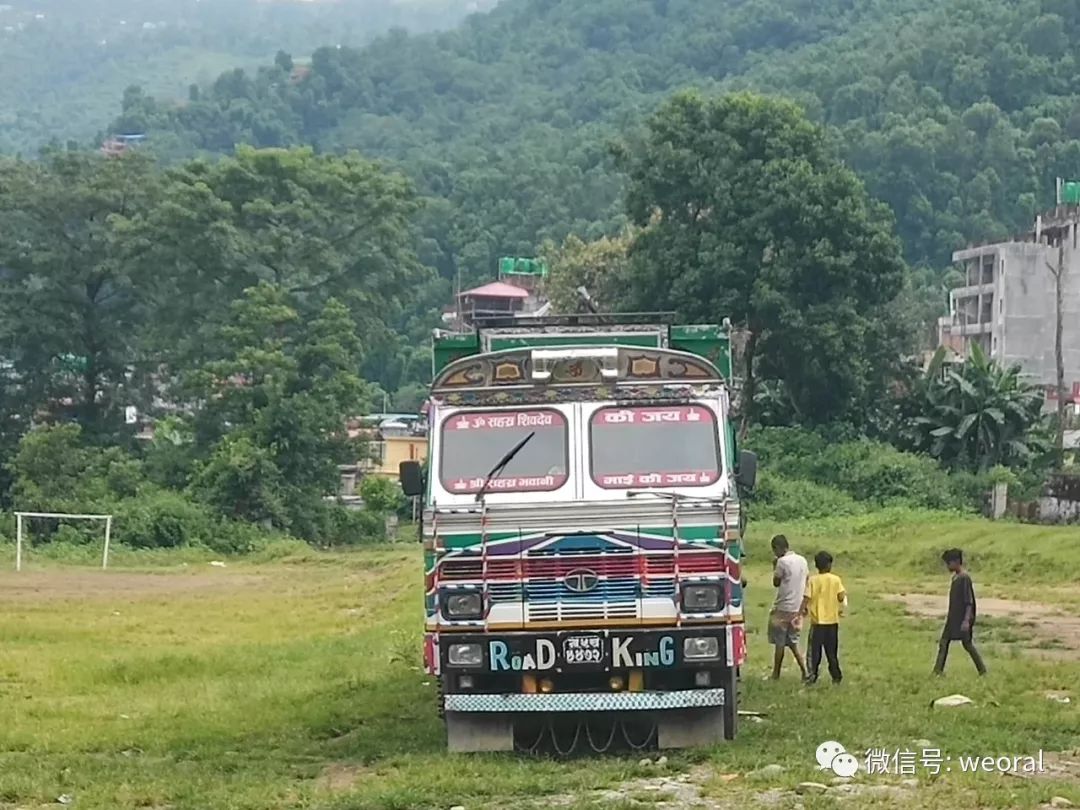 truck head is decorated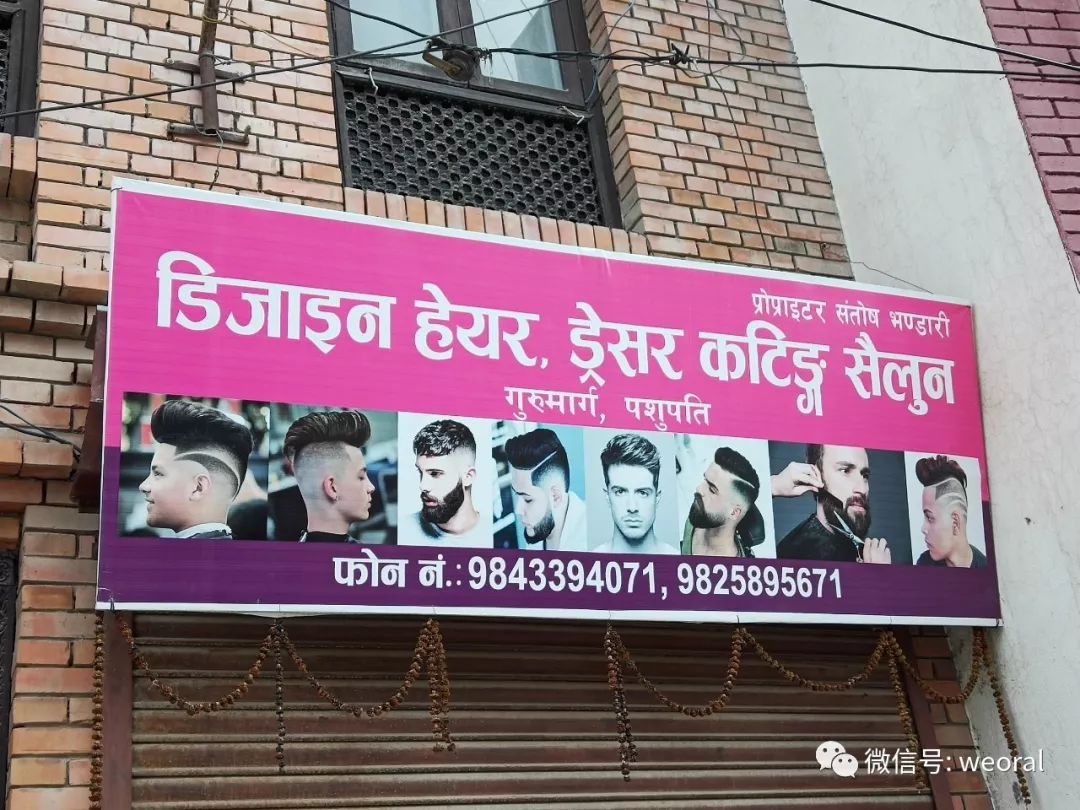 barber shop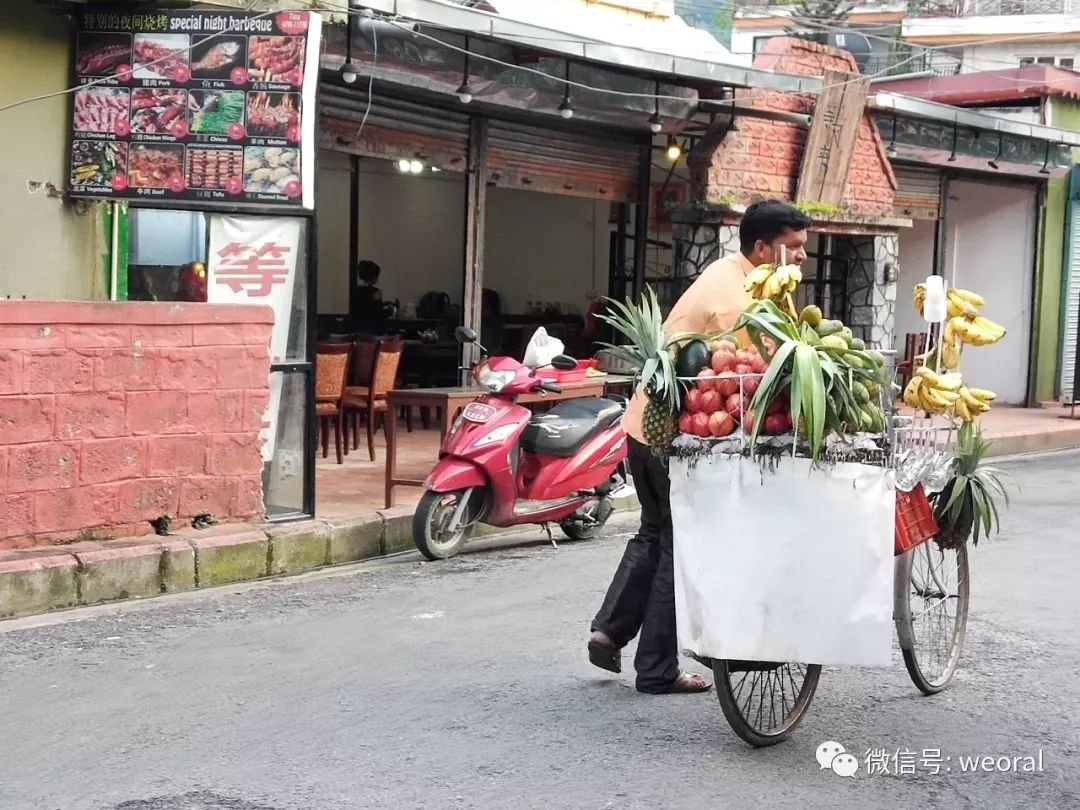 fruit seller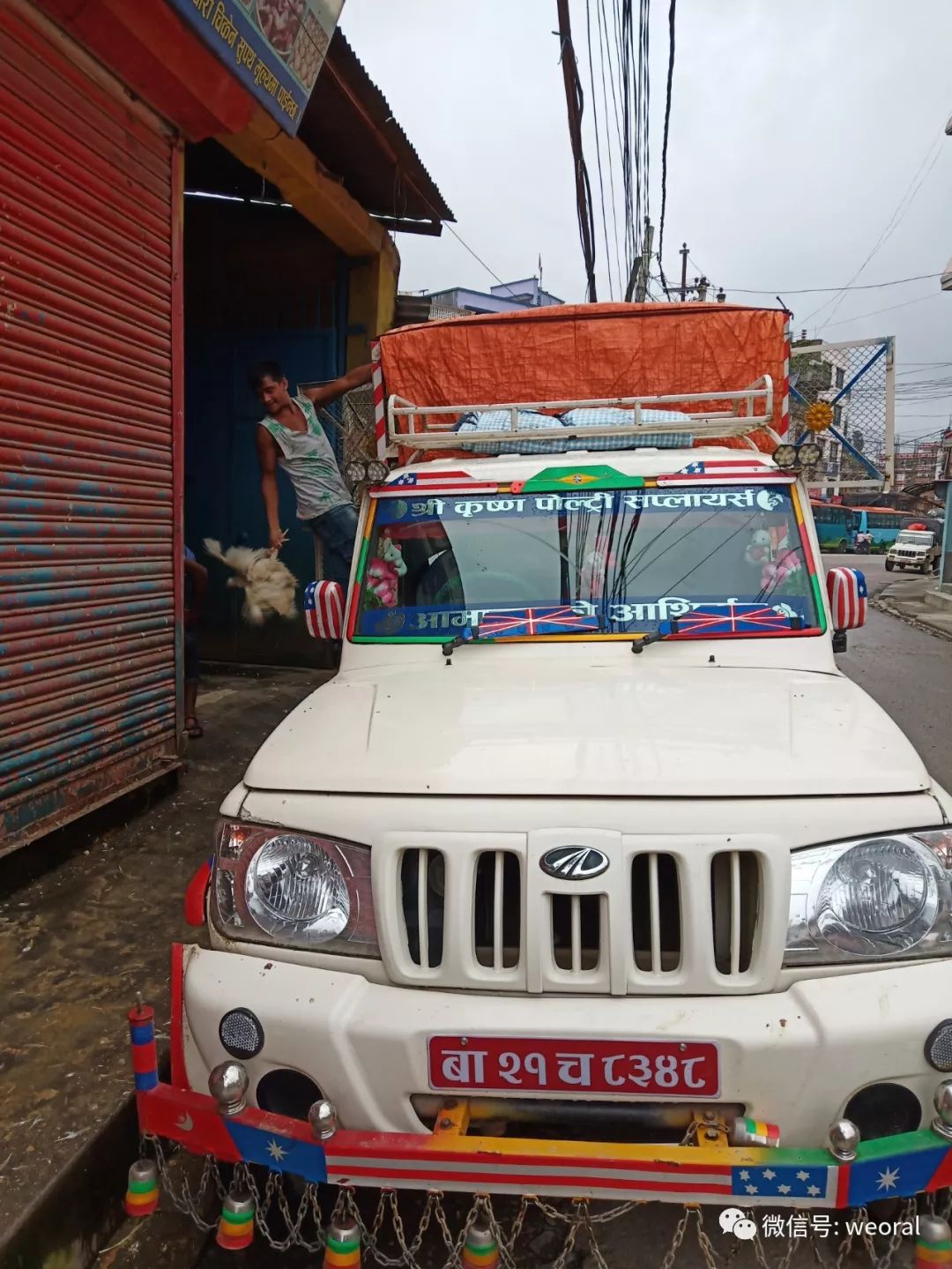 local decorated car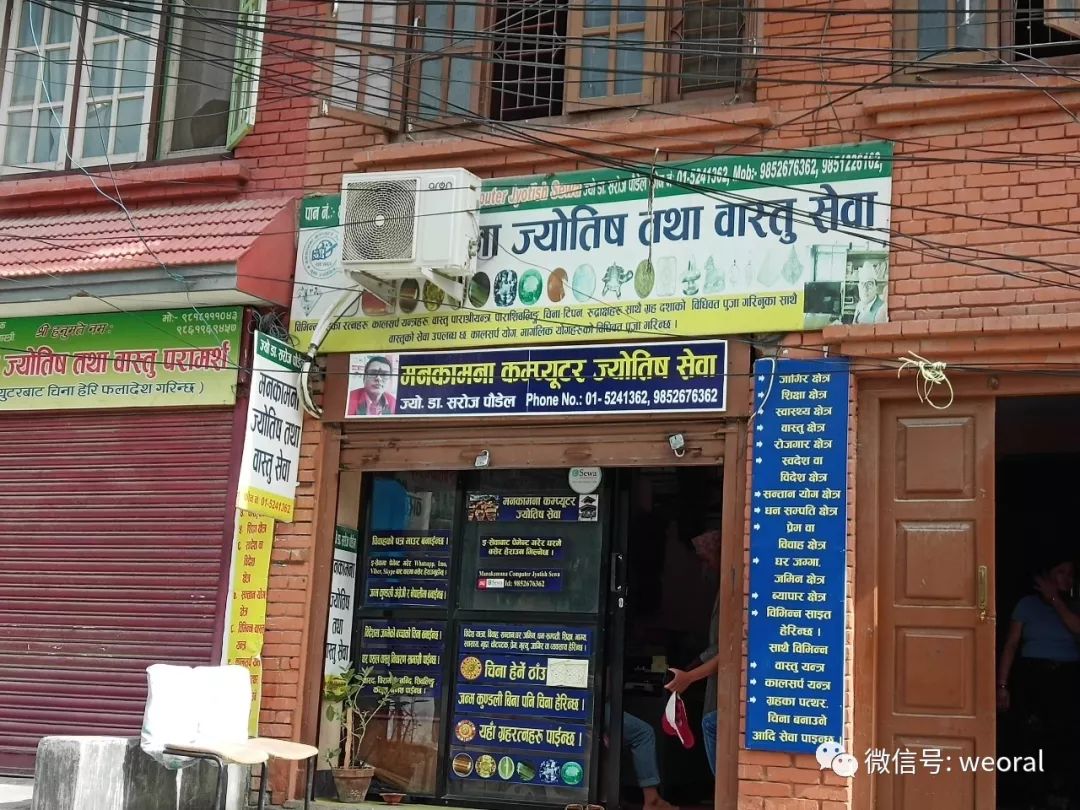 What kind of shop is this?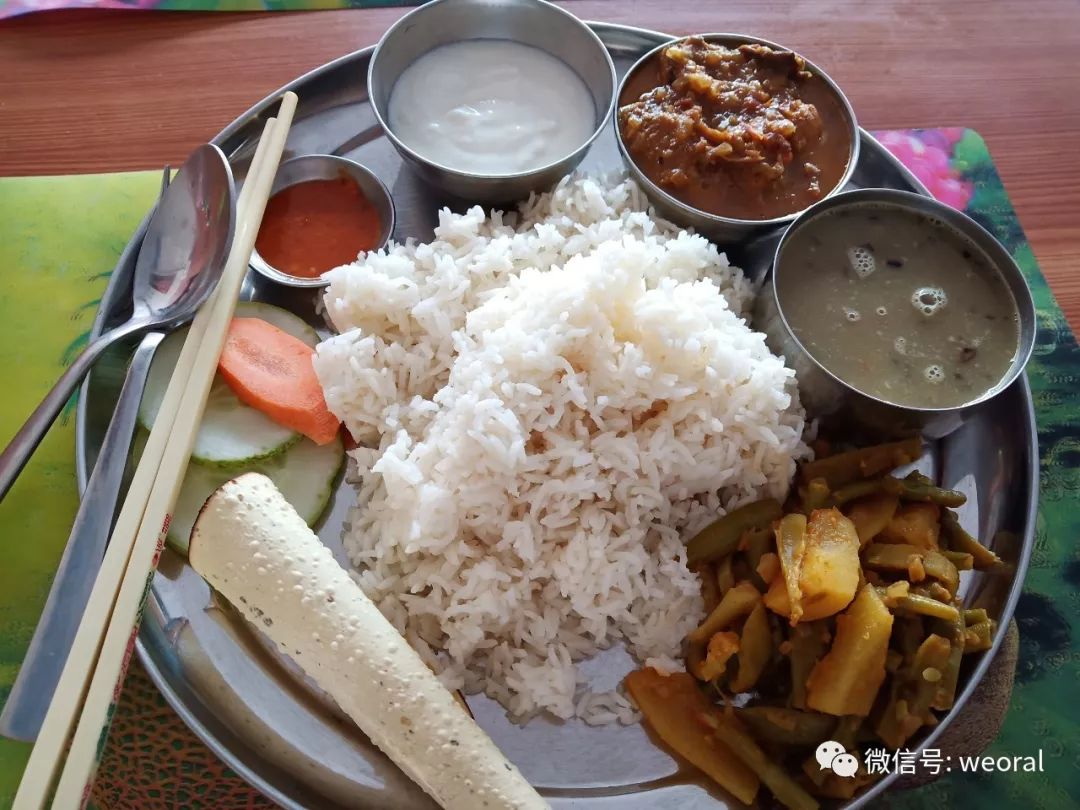 local nepali food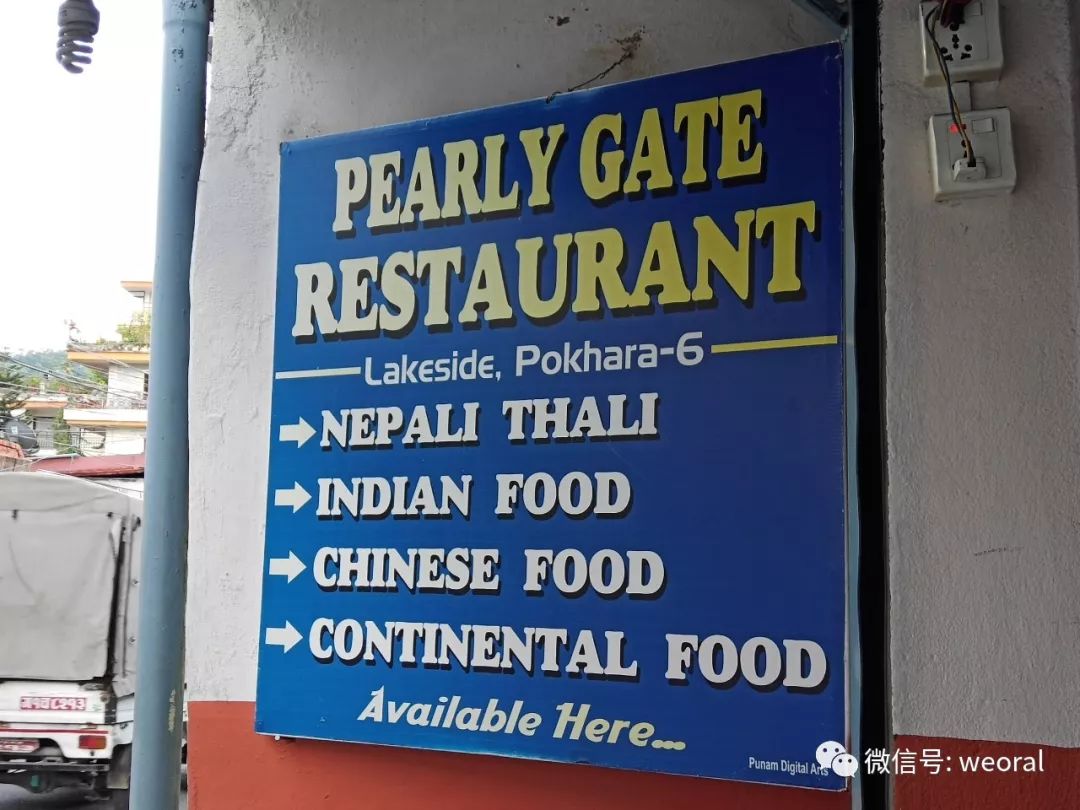 PEARLY GATE RESTAURANT 珍珠门餐馆
Napali Thali 尼泊尔菜
Indian Food 印度菜

Chinese Food 中国菜

Continental Food 欧式西餐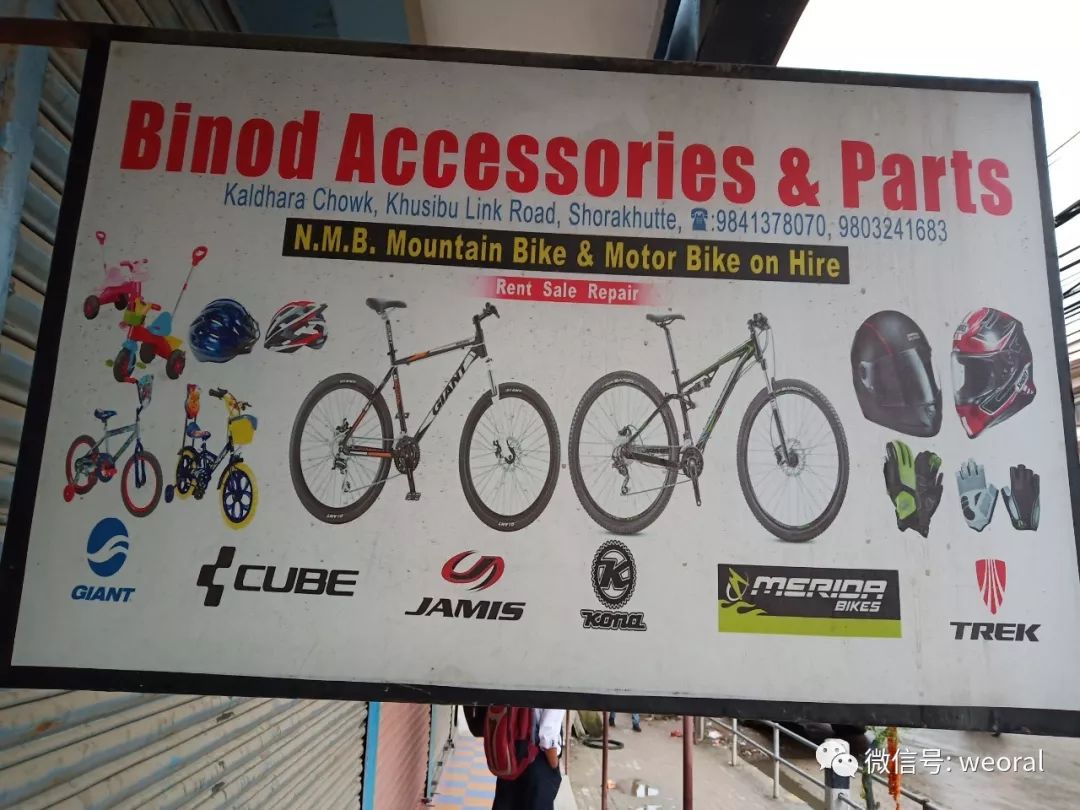 Accessories and Parts 自行车配件商店
Aug 21 Day 6, Had breakfast in the hotel. We walked around in the neighborhood, photos were as follows: Walked around FEWA Lake, had barbecue and beer, listened to musical band, which was really nice .

第六天,在酒店用完早餐后,我们在附件社区周围走了走,拍了些照片。后来,我们去了费瓦湖,在费瓦湖畔的一家餐厅吃烧烤(水牛牛肉)、喝当地啤酒、听现场乐队演奏的音乐!真是惬意!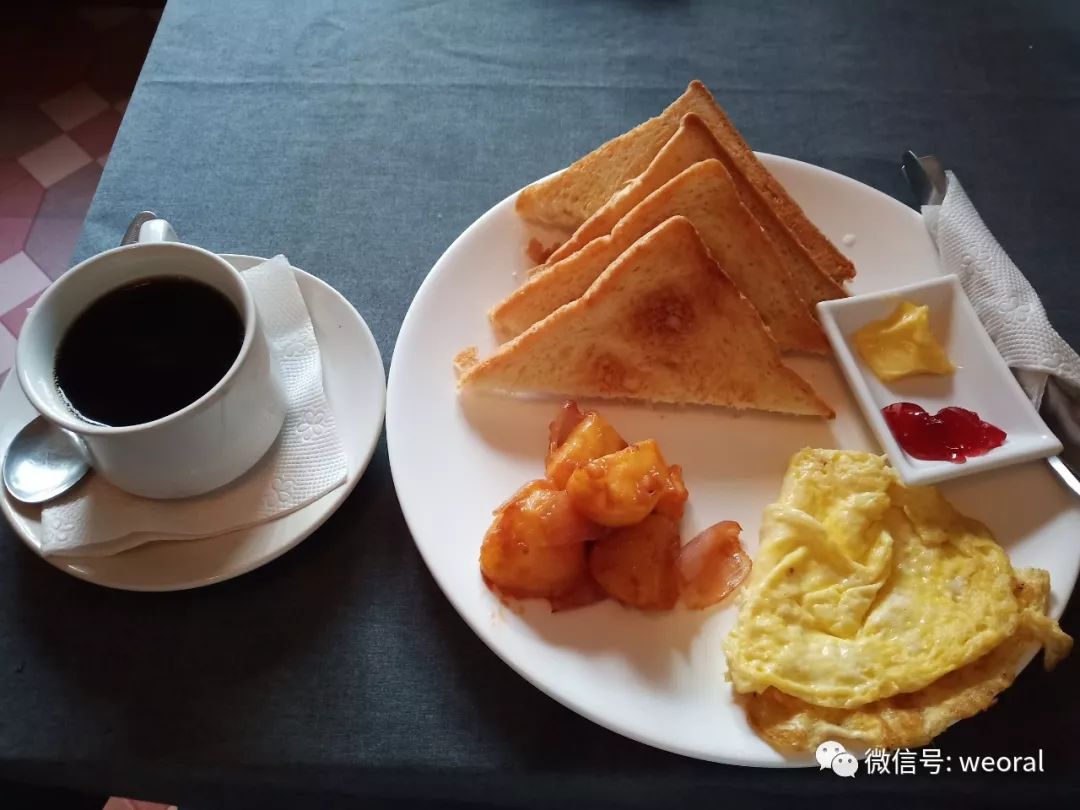 breakfast (I had black coffee!)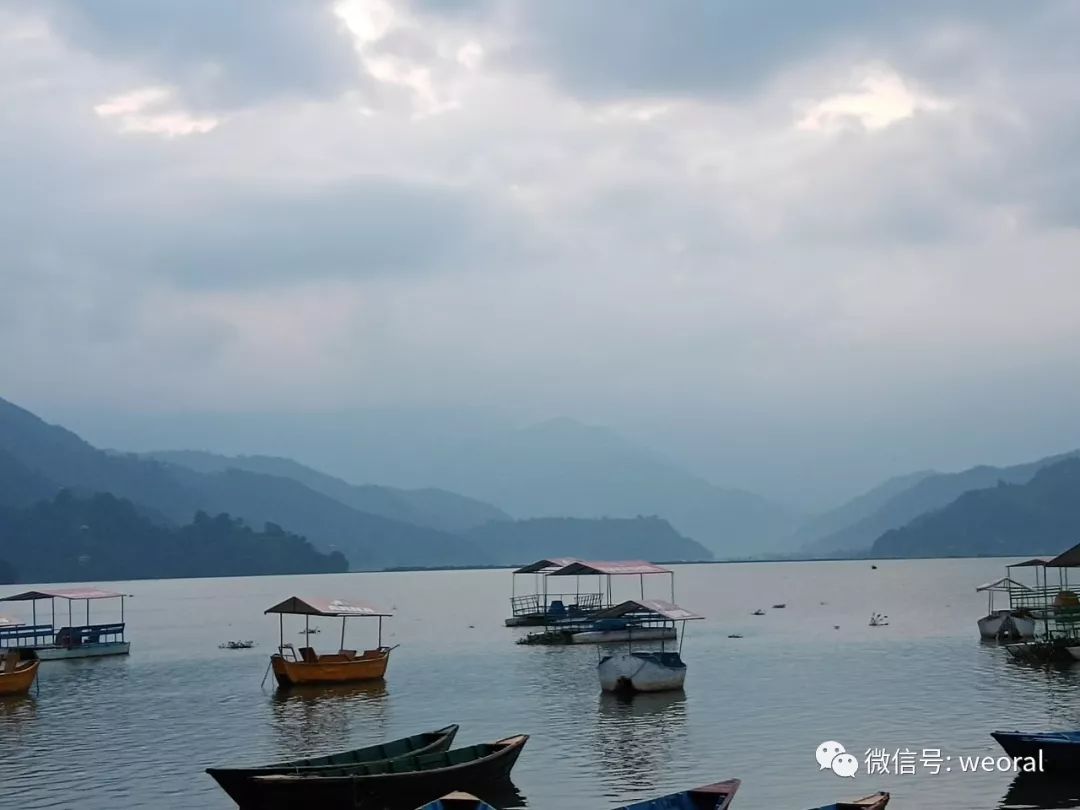 fewa lake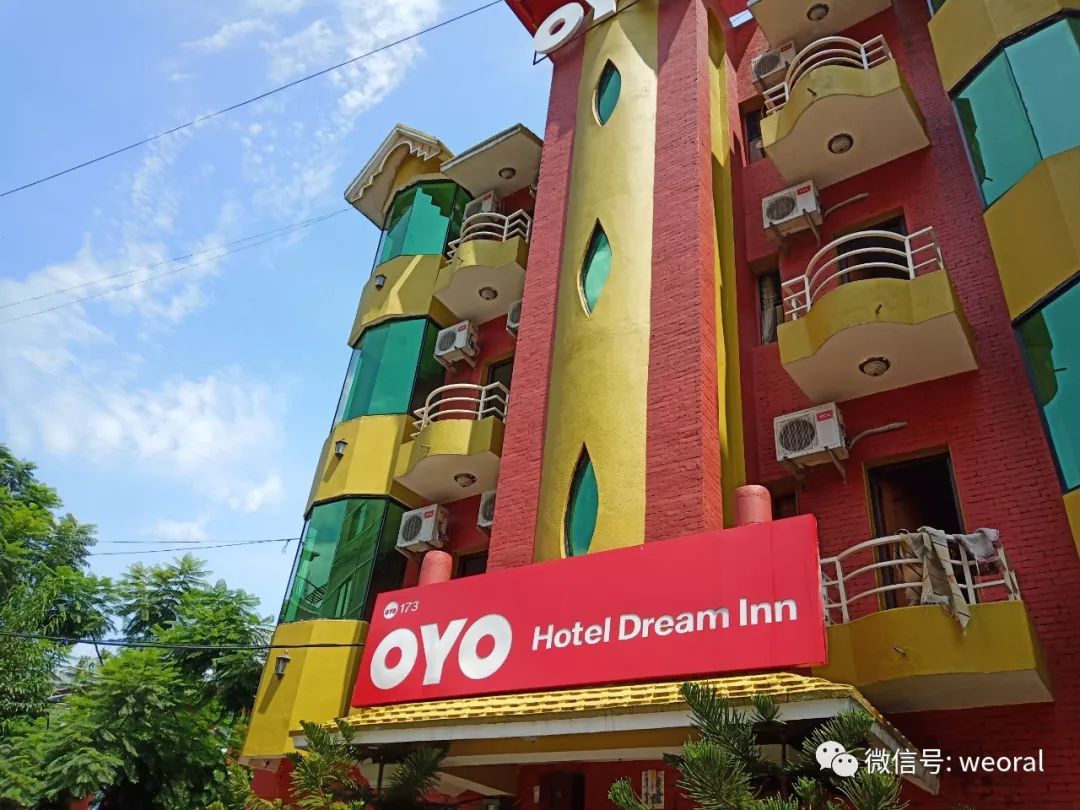 the hotel we lived in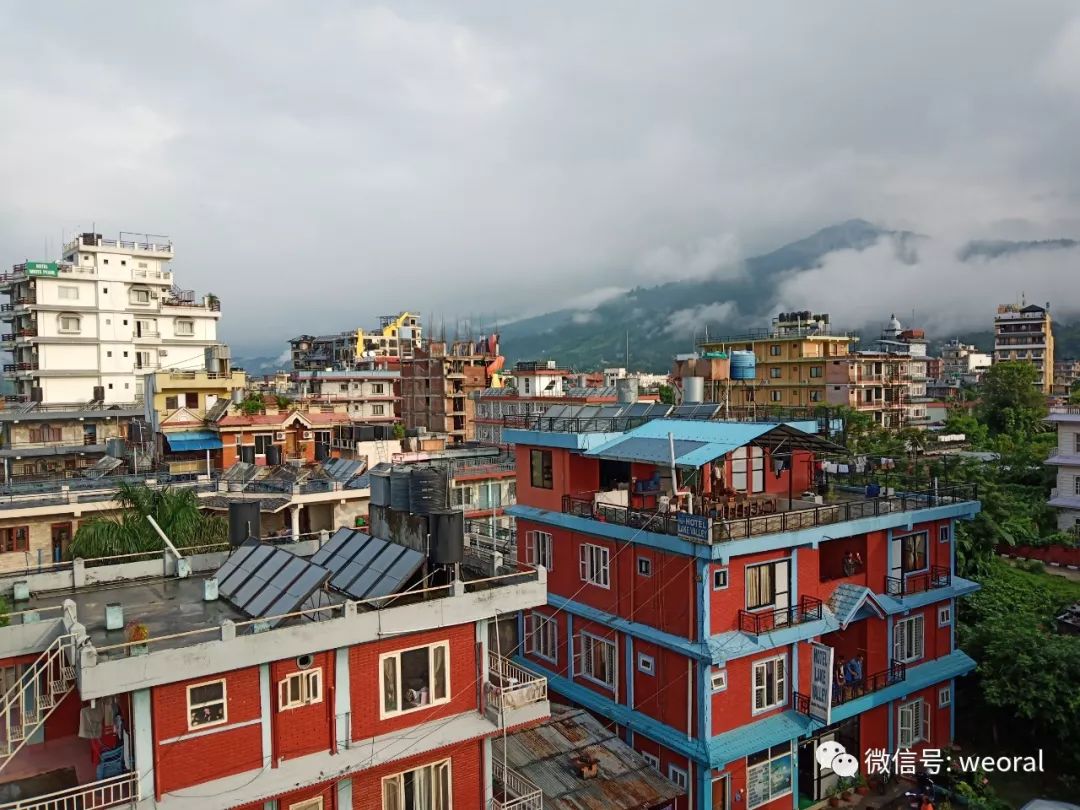 colorful city

Aug 22 Day 7, Had great breakfast: Continental Breakfast (bread slices, fried egg) and Muesli Set Breakfast (with yogurt). Visited international mountain museum, on the way we shot the amazing Snow Mountain along Himalaya. This museum is about Himalaya trekking, especially Mount Everest, eg, who was the first guy who ever arrived the top of Mount Everest. Quite a great deal of travelers come to Nepal just for trekking Himalaya range. After visiting museum, we hung around and tried local food in a local small restaurant called momo (steamed buff buns) and chaumhian (fried noodles), which was really tasty. After rest, when supper time came, we enjoyed abundant dinner: marwadi special set thali and Mushroom masala, see pictures. We noticed locals just use hands to eat.
第七天,享用美味早餐欧式西餐和麦斯利套餐(燕麦、酸奶等)。随后,我们参观了国际登山博物馆,去博物馆的路上我们有幸摄下喜马拉雅山脉雪山,该博物馆陈列了许多和攀登喜马拉雅山尤其是珠穆朗玛峰有关的图文资料,比如谁是世界上首位登上珠峰的人等等,很多游客就是专门为了登山来尼泊尔的。参观完博物馆后,我们在周围逛了逛,在一家当地小饭馆品尝了一种叫MOMO和Chaumhian的食物,原来MOMO就像国内的蒸饺,Chaumhian就是炒面的音译词,味道很好!下午休息片刻,逛完后,我们又享用了丰富的晚餐:Marwadi Special套餐和蘑菇Masala, 具体见图。我们看到当地人用手直接抓着吃饭!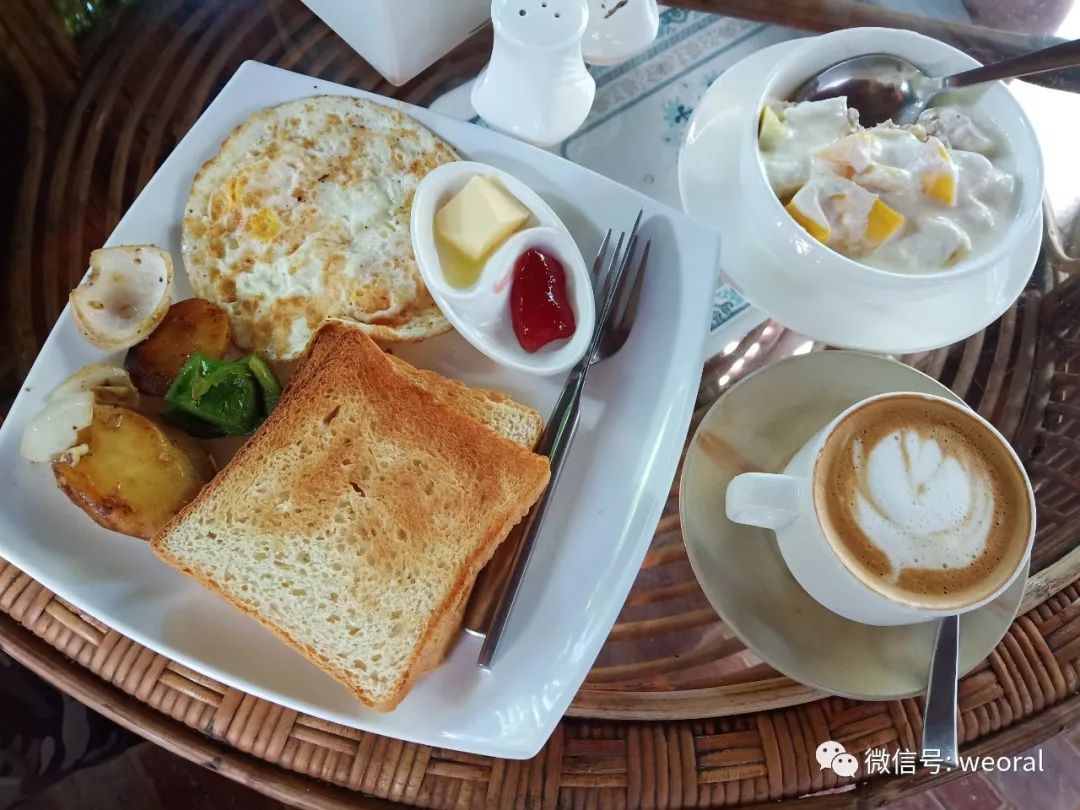 breakfast: continental style with coffee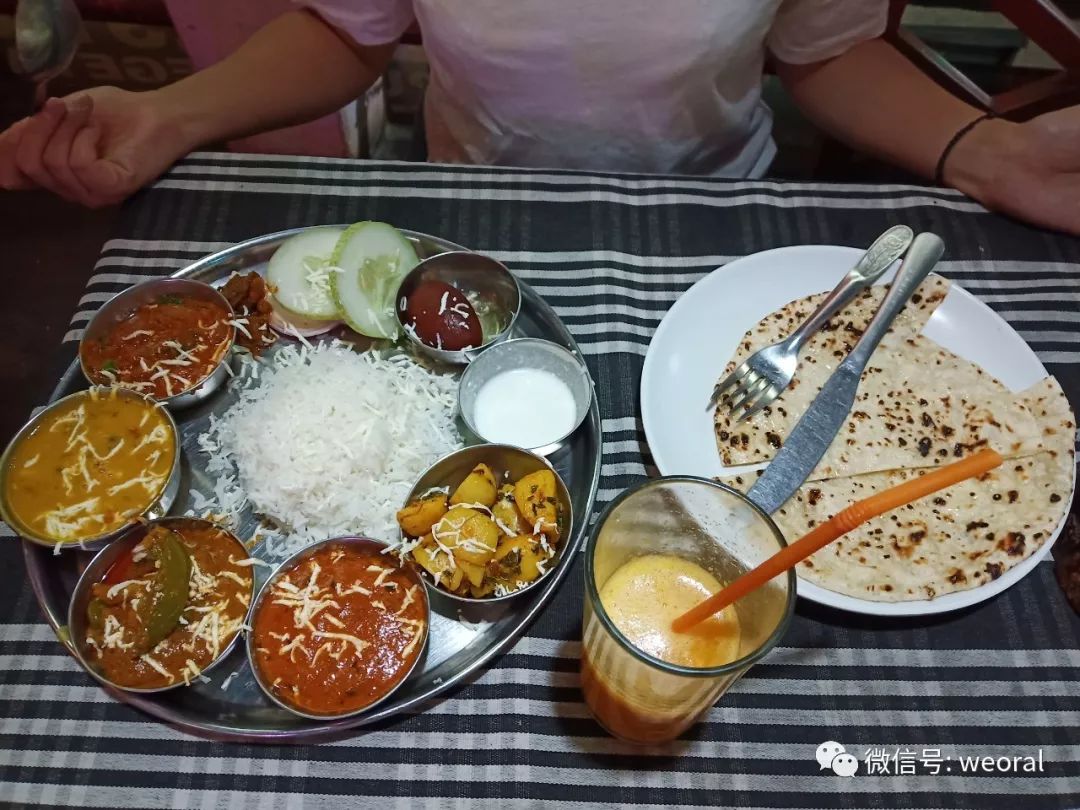 marwadi special set thali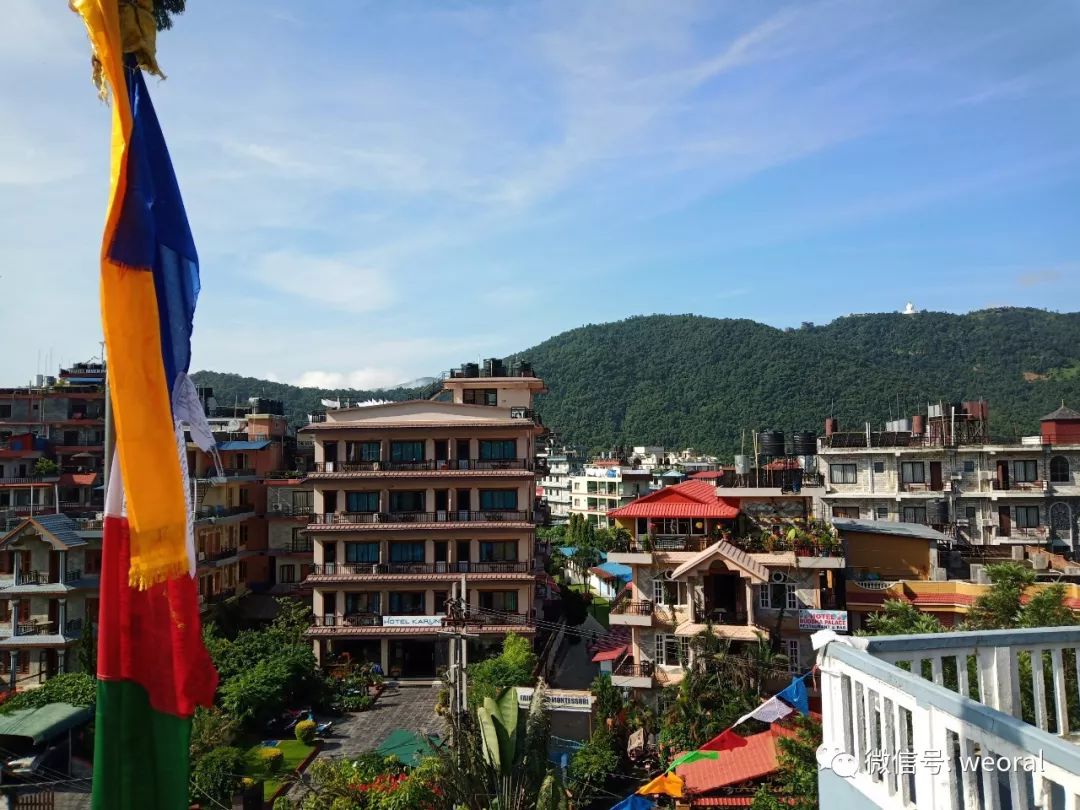 colorful city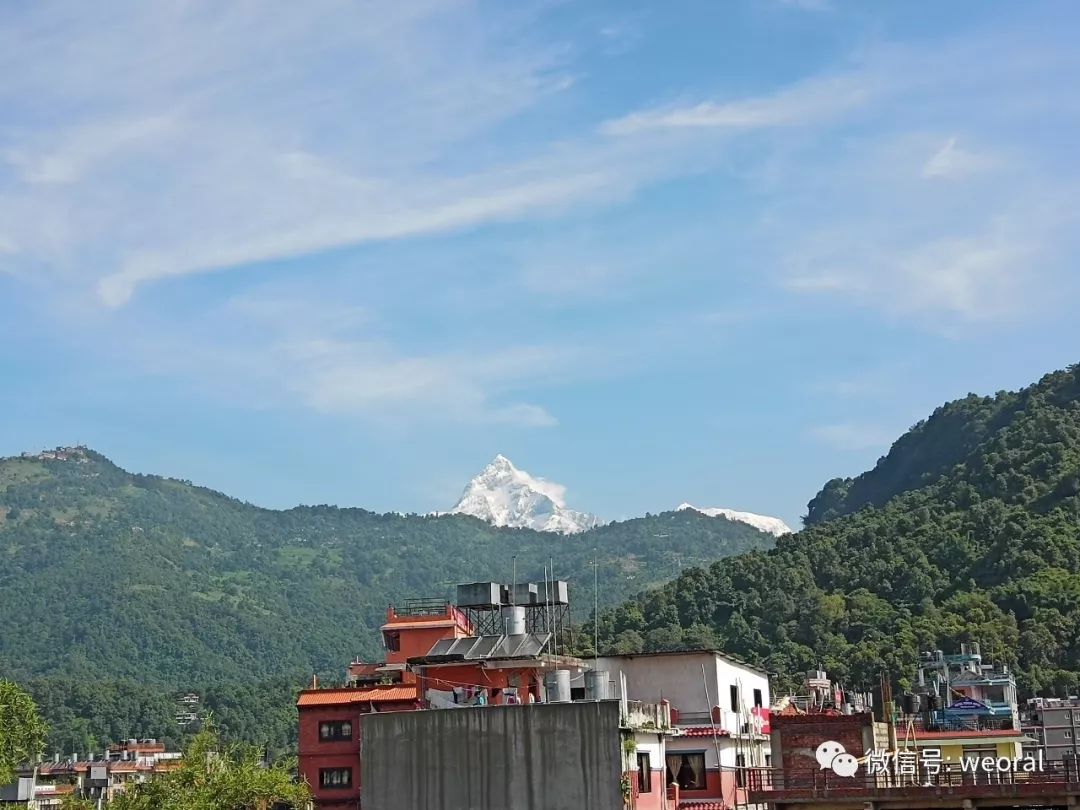 snow mountain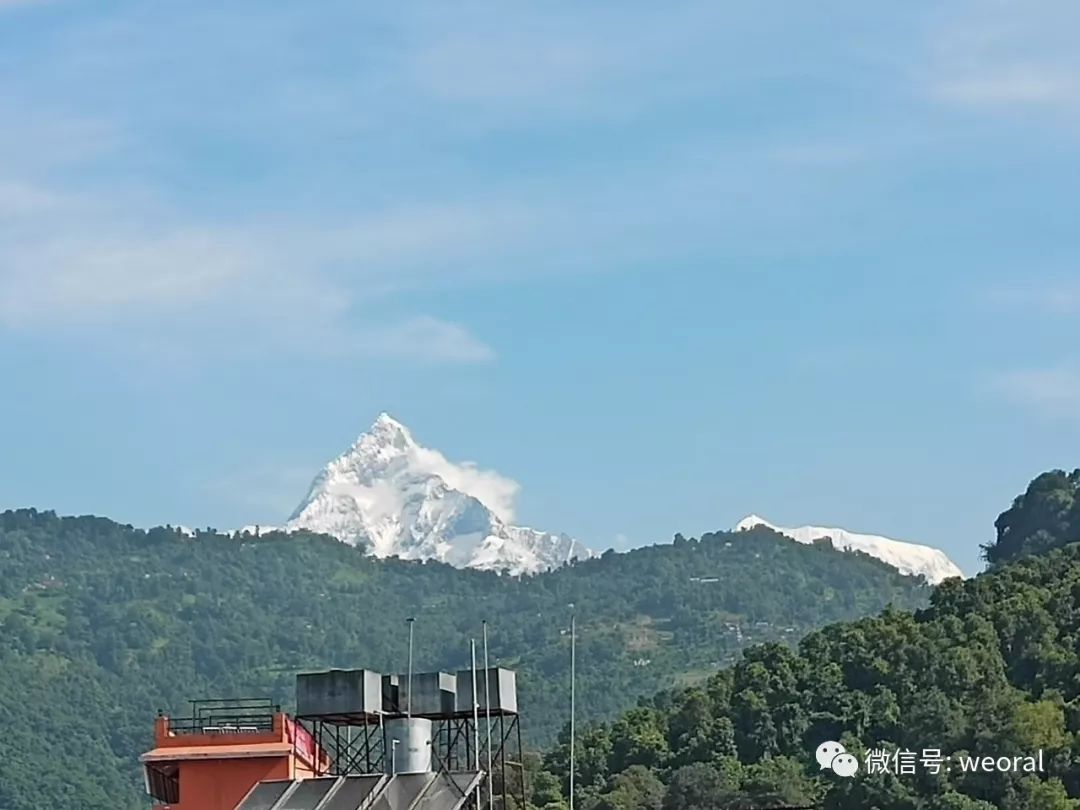 snow mountain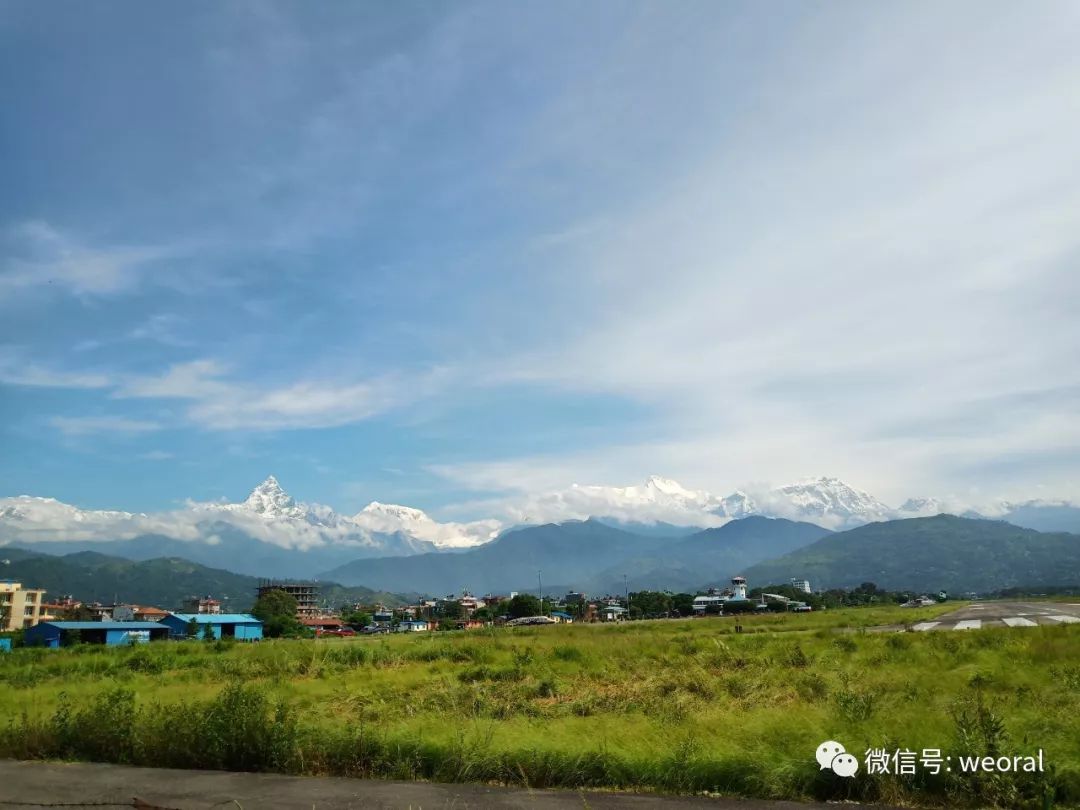 snow mountain along the Himalaya range
喜马拉雅山脉的雪山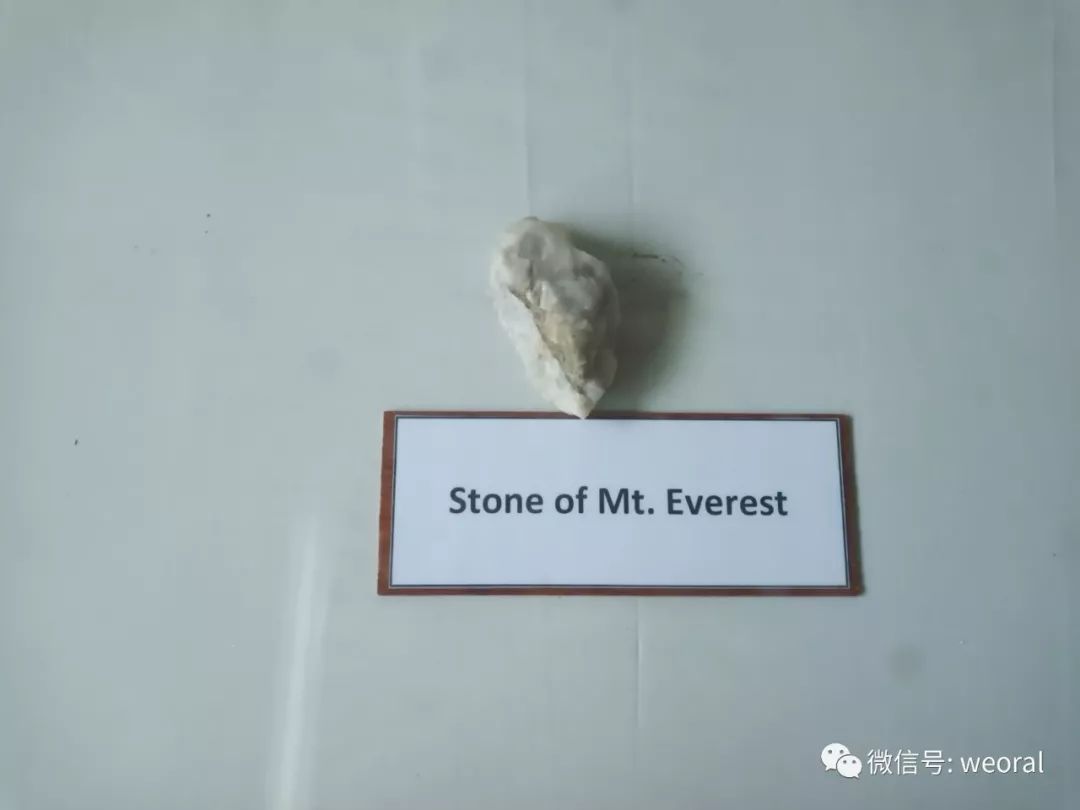 珠穆朗玛峰的石头

Aug 23 Day 8, After breakfast, we moved to a farm to live with farm owner Uzzawal who was very friendly, kind-hearted. We had lunch made by his nephew. There were a cow, dogs, ducks and goose in the farm. Two couch surfers from Spain came in the afternoon, who could play guitar and ukulele very well. We bought vegetables and made dinner together. Uzzawal's life experience was amazing. He ever married a Japanese wife, lived and worked in Japan for 7 years, his child was adult already. He divorced later. I asked the reason, he said he didn't like to work in Japan, because everyone likes a working machine Robot, every day same time work, work, work. But, here in Nepal in his farm, if he wants to work, just work, if he doesn't want to work, just relax, in the evening, sit in the yard, drinking beer, watching stars, nice right? It's the story behind everyone that makes him different and special, we all have our own stories. By the way, life pace is quite slower than that in China.
第八天,早餐后,我们搬到一家农场去住,农场主Uzzawal非常友好热情。他的外甥做的午餐。农场有牛、狗、鸭子和鹅。来自西班牙的两位沙发客下午也来了,他们弹唱吉他和尤克里里很专业。我们买了蔬菜,一起做晚餐。经过交流后,Uzzzawal的生活阅历令我惊叹不已。他曾经娶了个日本妻子,他在日本和妻子生活了七年,他们的孩子已是成人了。后来他离婚了,我问他为什么,他说在日本,人们就像机器一样地工作,朝九晚五地工作,生活很枯燥,压力很大,人们失去了生活乐趣,而在尼泊尔,他想工作就工作,不想工作就不工作,晚上坐在农场里,喝着啤酒、看星星、听音乐,多舒服呀!是每一个人背后的故事让其与众不同,我们每个人都有自己的故事。当然,尼泊尔的生活节奏比国内慢多了。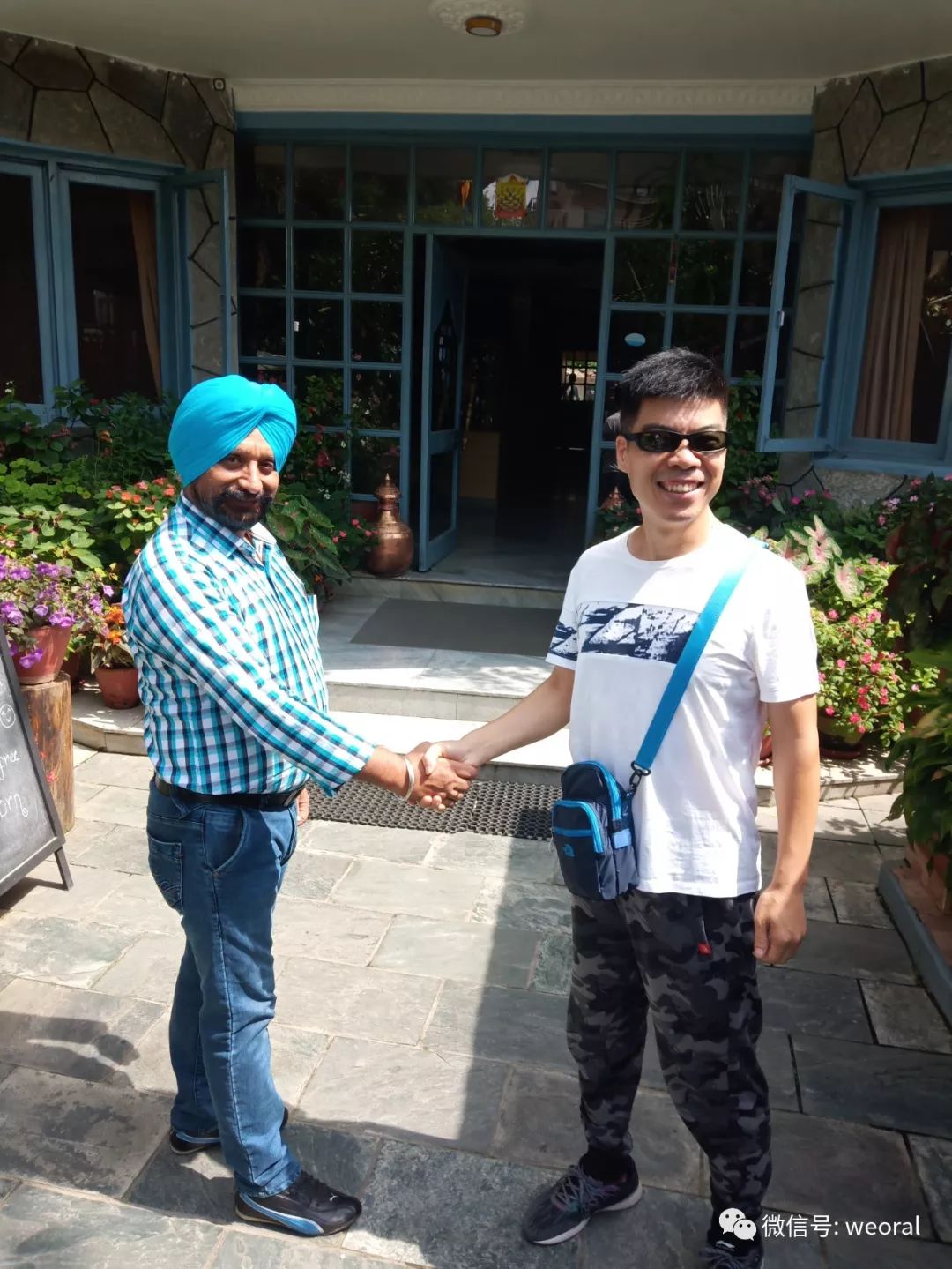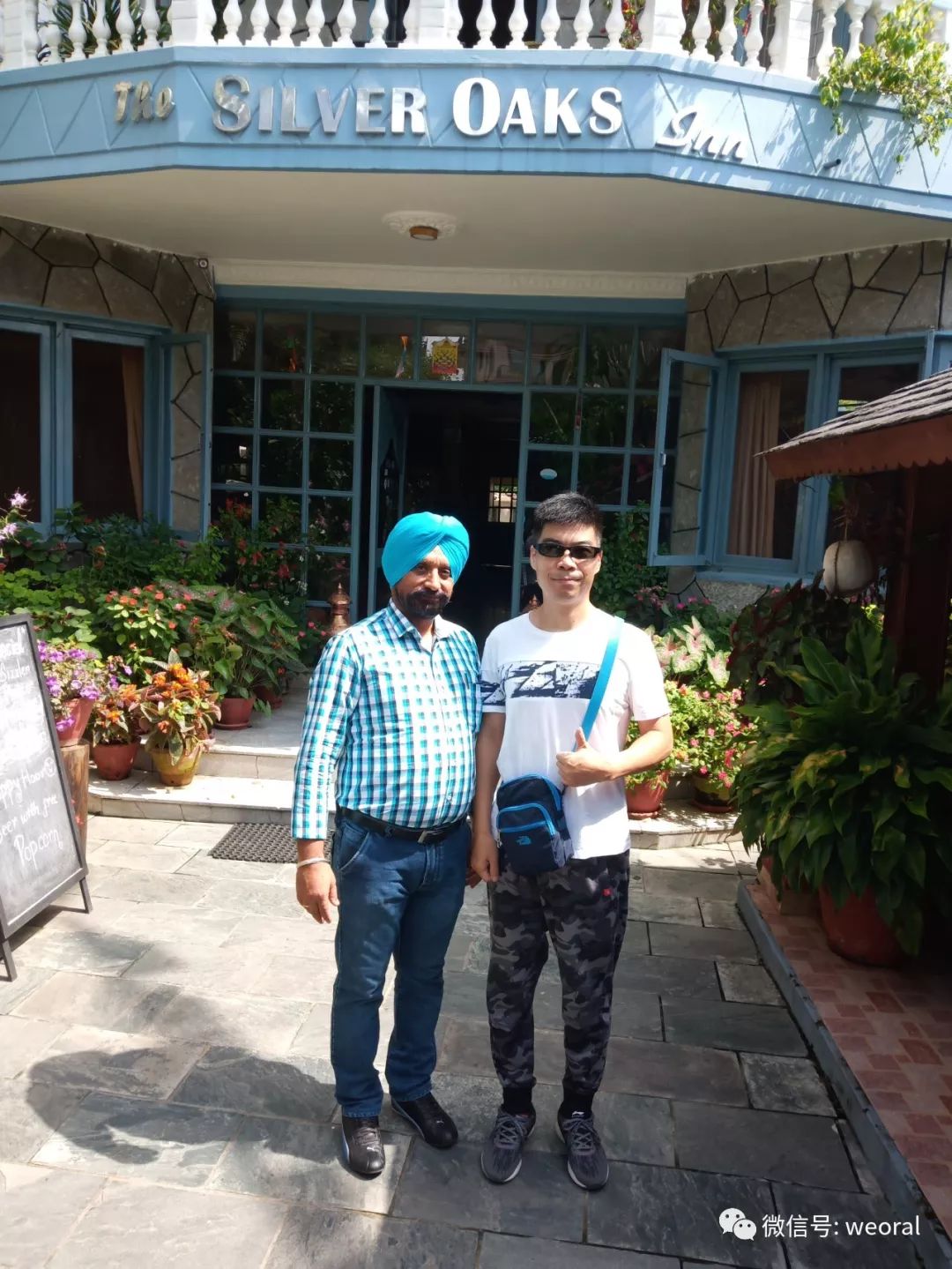 photo with Indian
Aug 24 Day 9, We took local bus to city center and checked in a local hotel. We had Nepali food set. In the evening we had pizza in Godfather's Pizza Restaurant. Then we played snooker for fun.
第九天,我们乘坐公交车回市区,并入住了一家酒店。我们享用尼泊尔当地饮食。晚上,我们在Godfather's比萨店吃比萨,然后打了一晚上台球。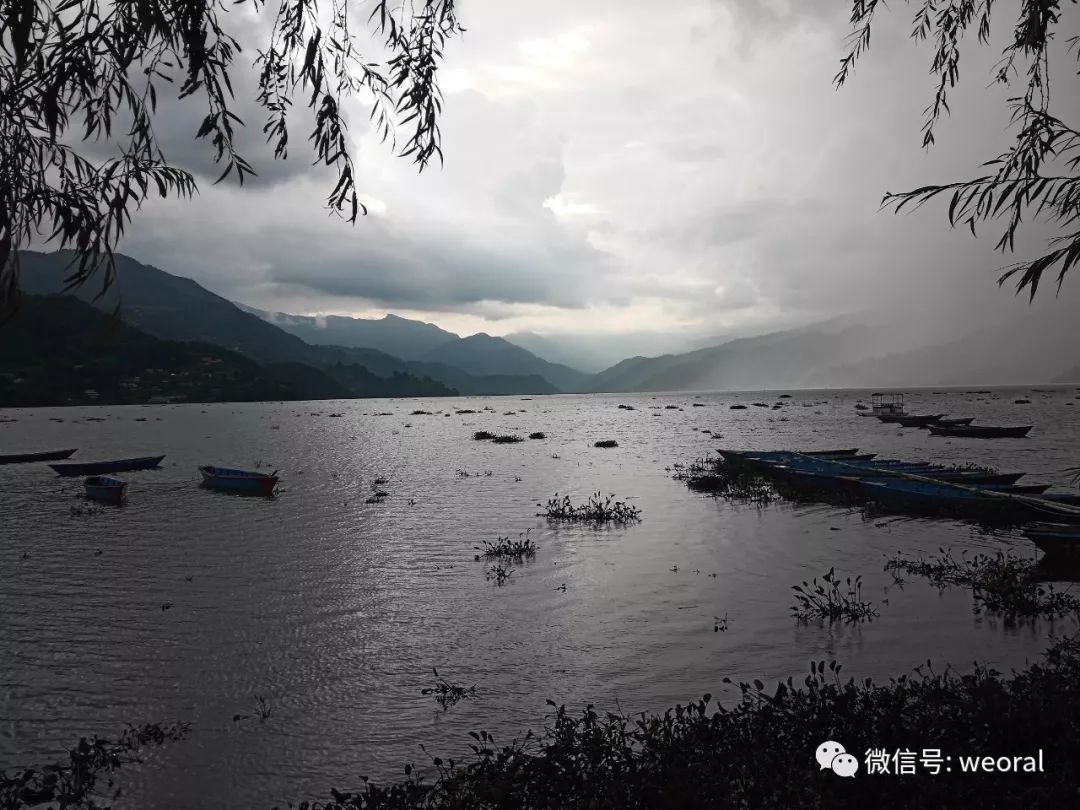 fewa lake
Aug 25 Day 10, In the morning, we moved to a lake view guest house, from the balcony, the view is gorgeous! We had tofu curry for lunch. In the afternoon, I took local bus to a village and hiked along the mountain to enjoy the beautiful view. I saw horses along my trekking way. For Dinner we ordered Papaya Juice, Mango Juice, Special Nepali Food and Chowmein.

第十天,我们搬到一家有湖景房的宾馆去住,阳台上可以看到费瓦湖,景色太漂亮了!我们中午吃的豆腐咖喱。下午,我坐当地公交车去一个村庄,徒步登山,欣赏美丽的风景。沿途,我看到了马儿。晚餐,我们点了木瓜汁、芒果汁、尼泊尔当地菜和炒面,尼泊尔的果汁都是鲜榨的纯果汁。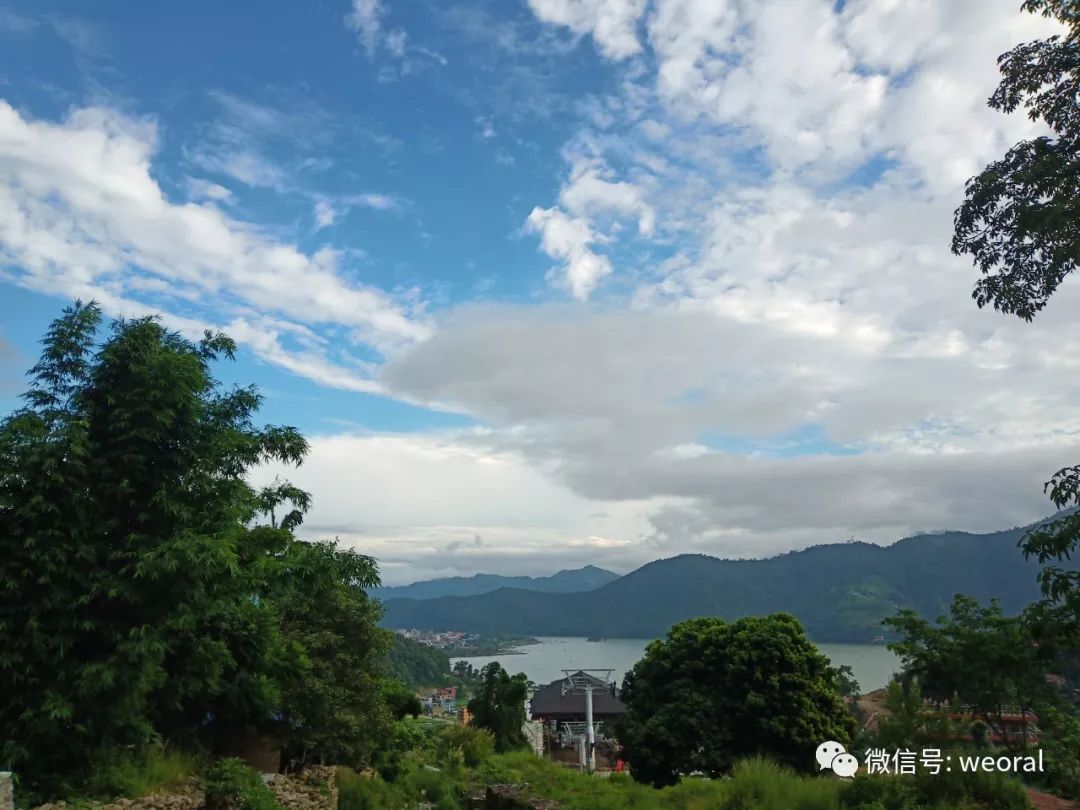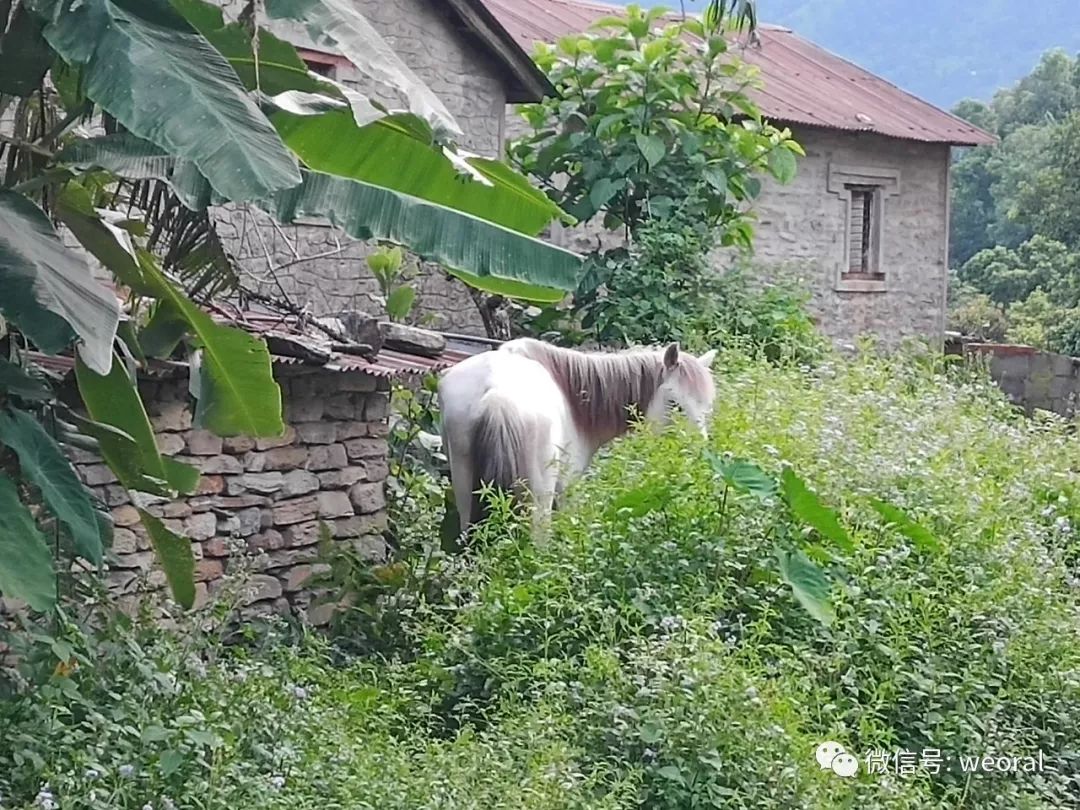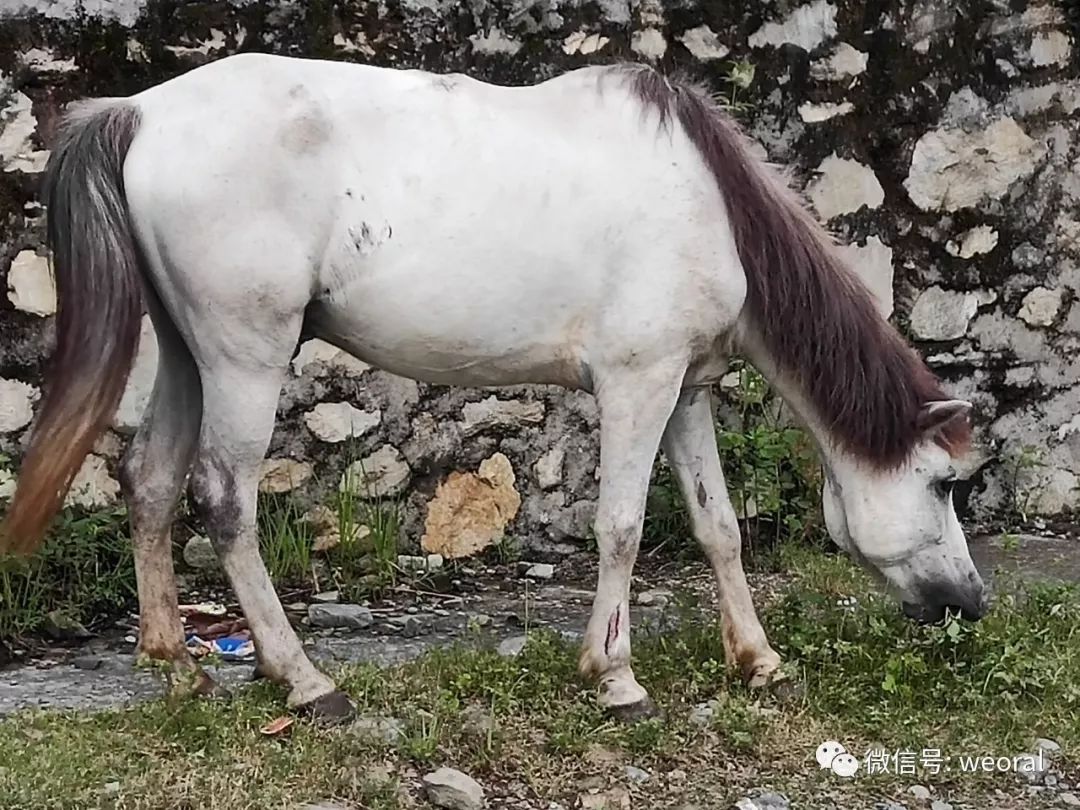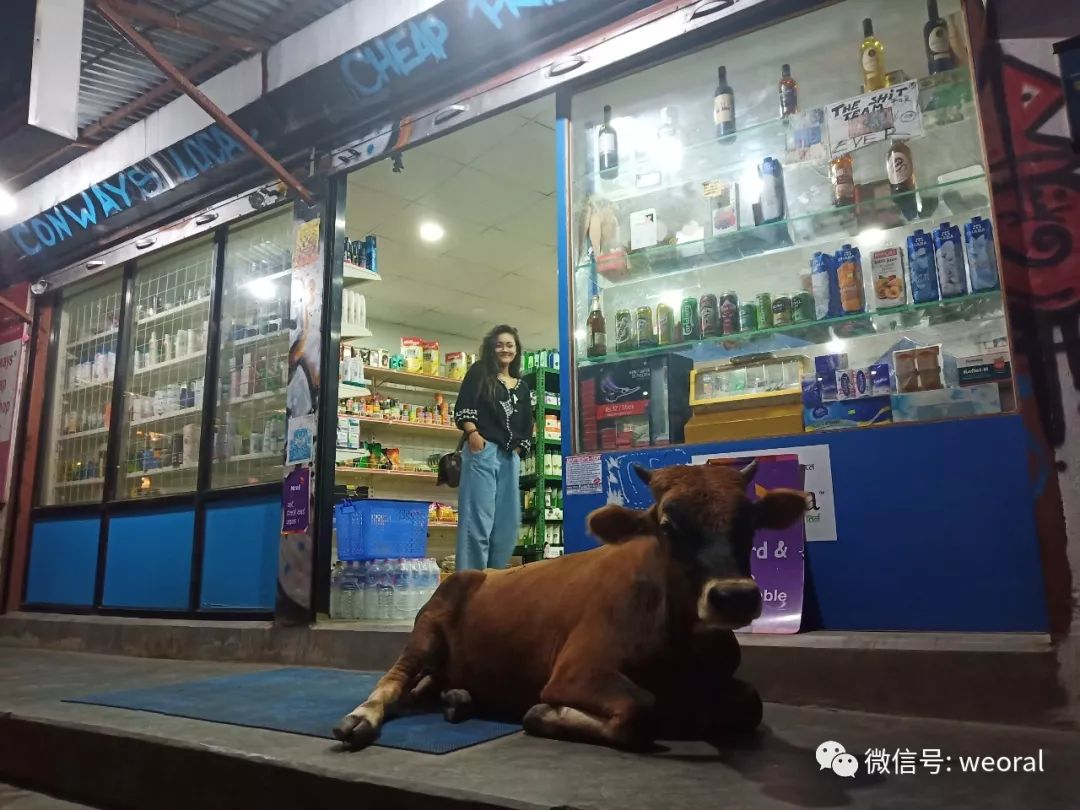 homeless ox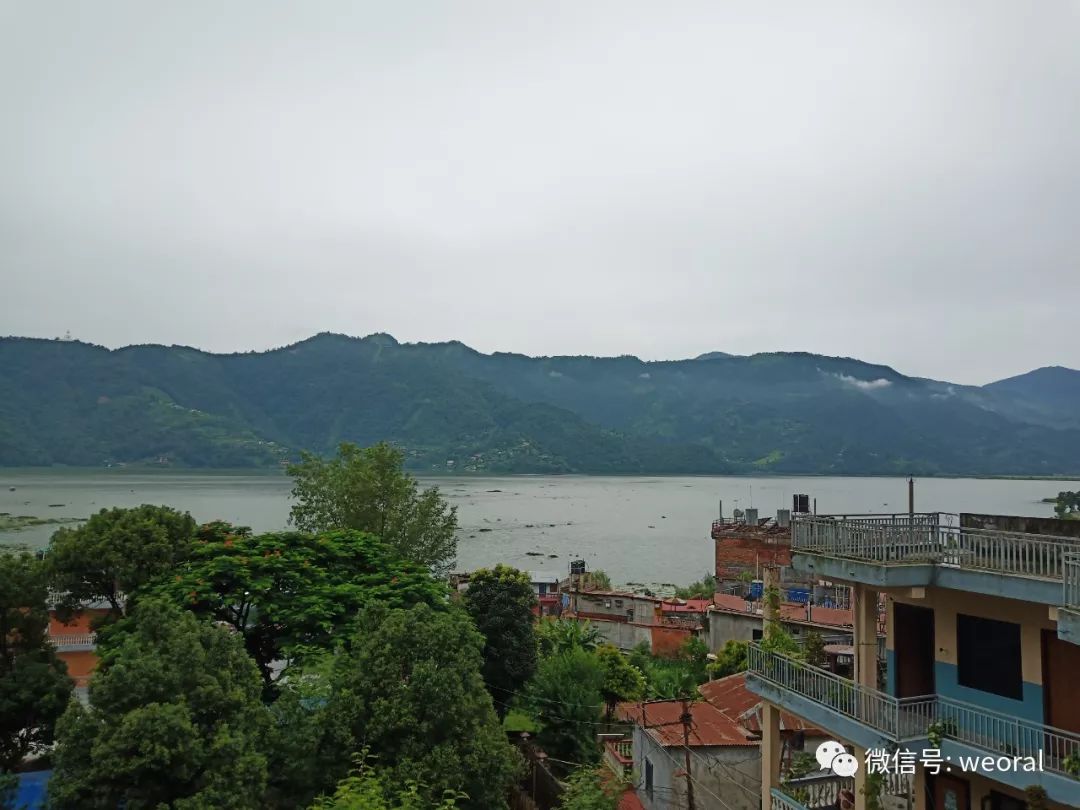 fewa lake from balcony hotel 从酒店阳台上摄的费瓦湖

Aug 26 Day 11, Attended daily tour with Indian tourists. Temple, lake, cave, waterfall etc. Lunch veg. Sizzler for me, Veg. Thakali Thali for my wife.
第十一天,我们和印度人一起参加了博卡拉一日游,寺庙、湖泊、洞穴、瀑布等等,景色不错。午餐,我享用了蔬菜Sizzler, 妻子享用了蔬菜Thakali Thali,如图。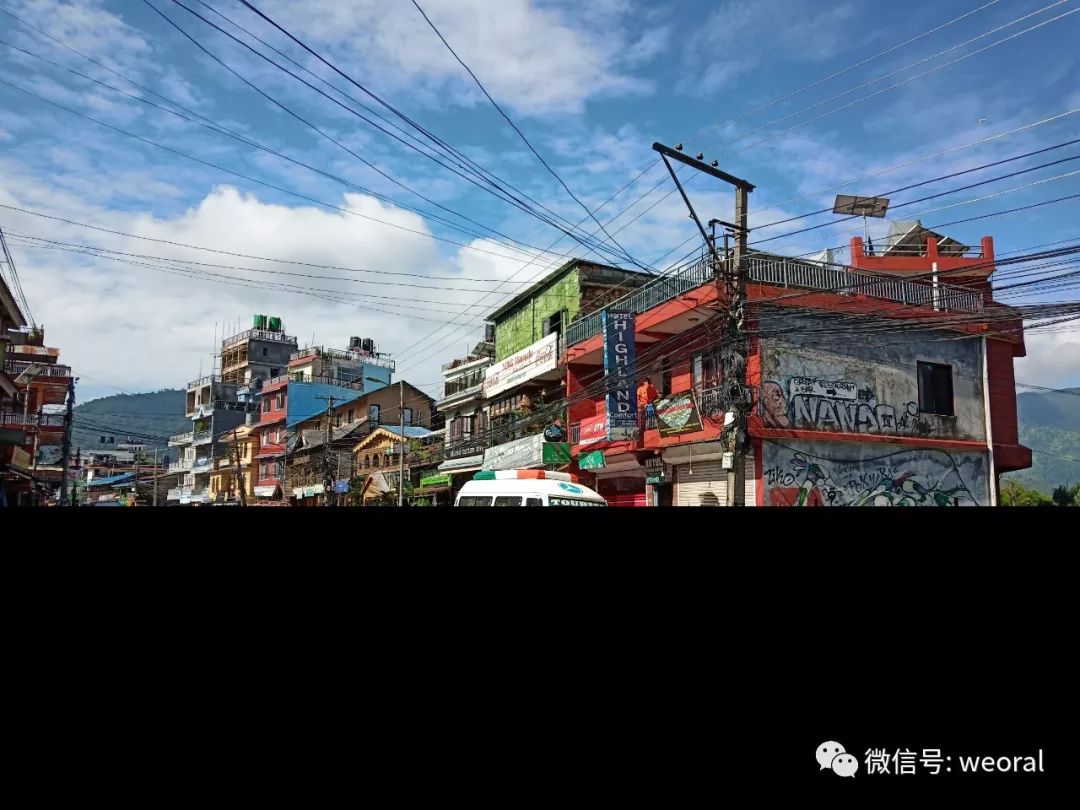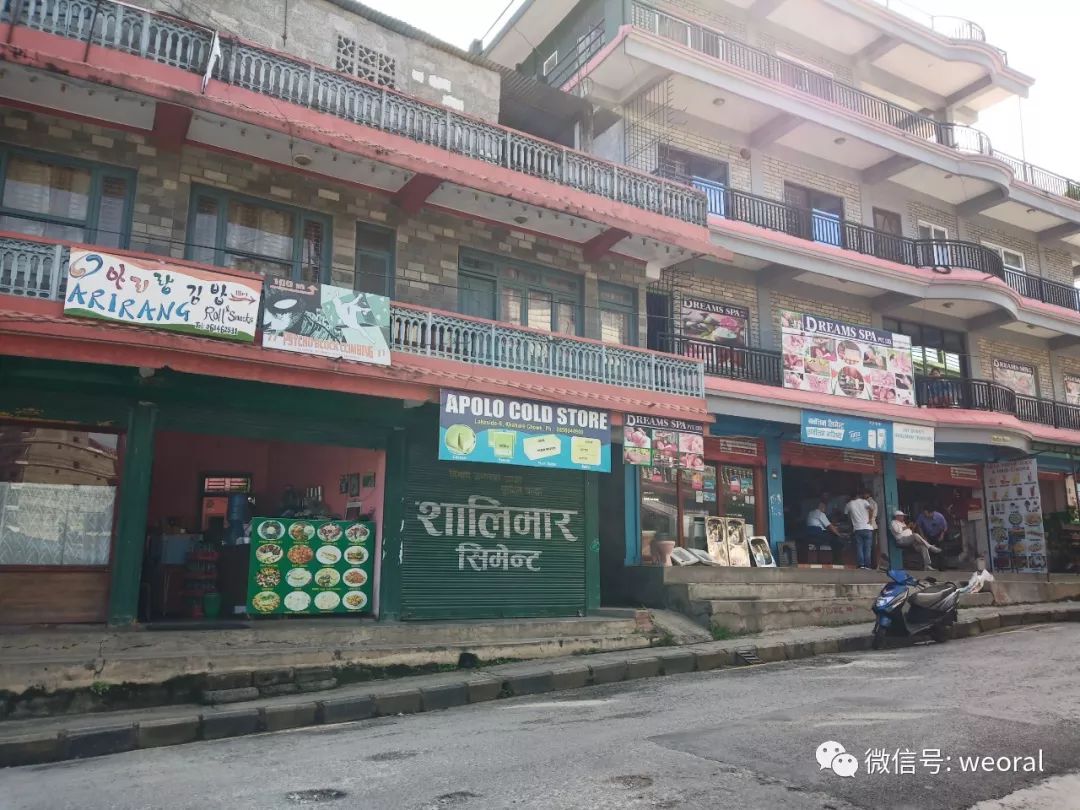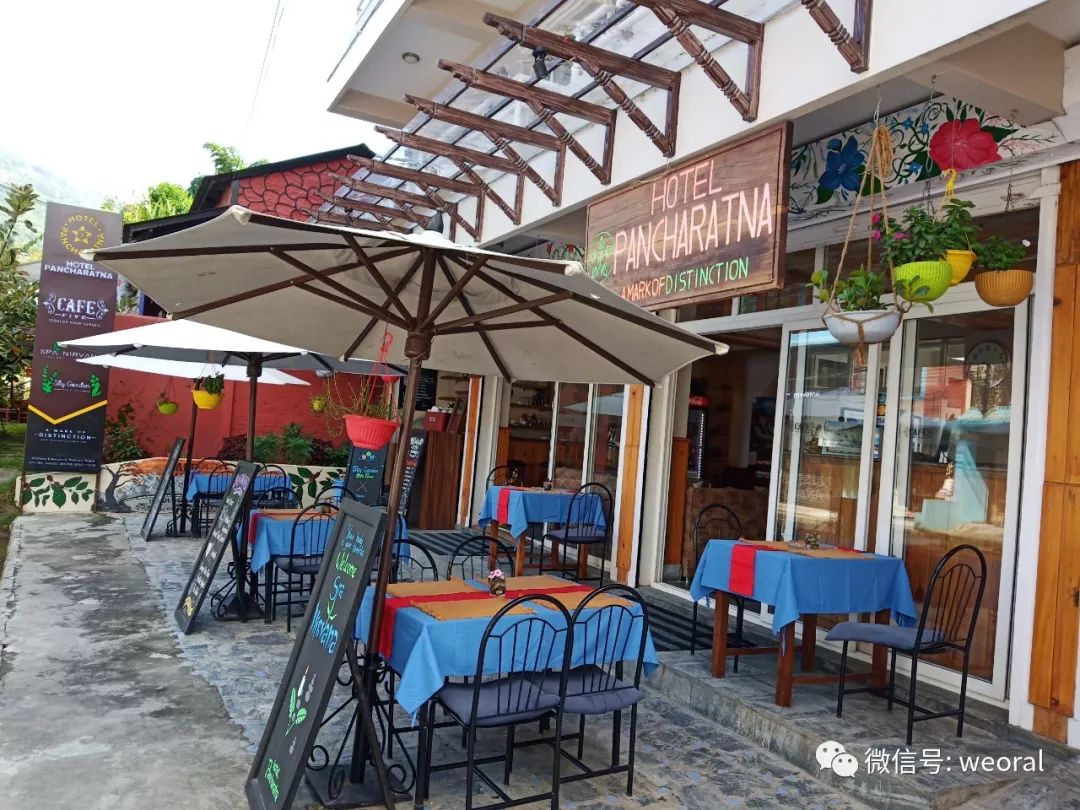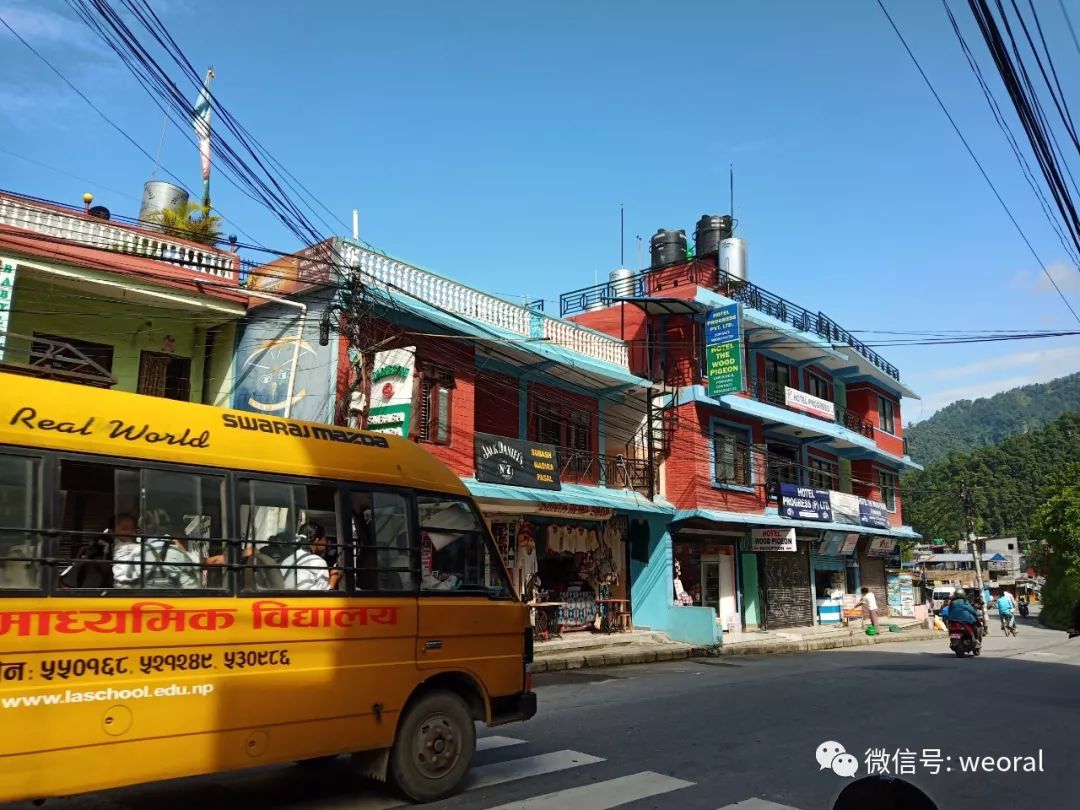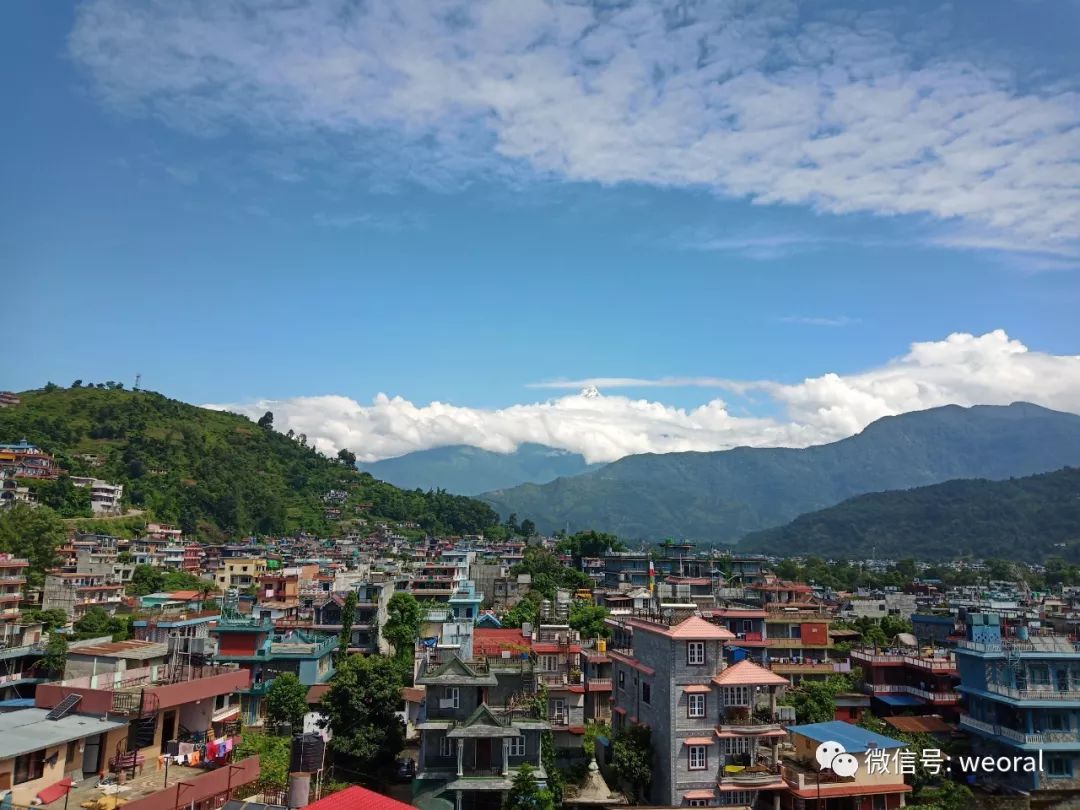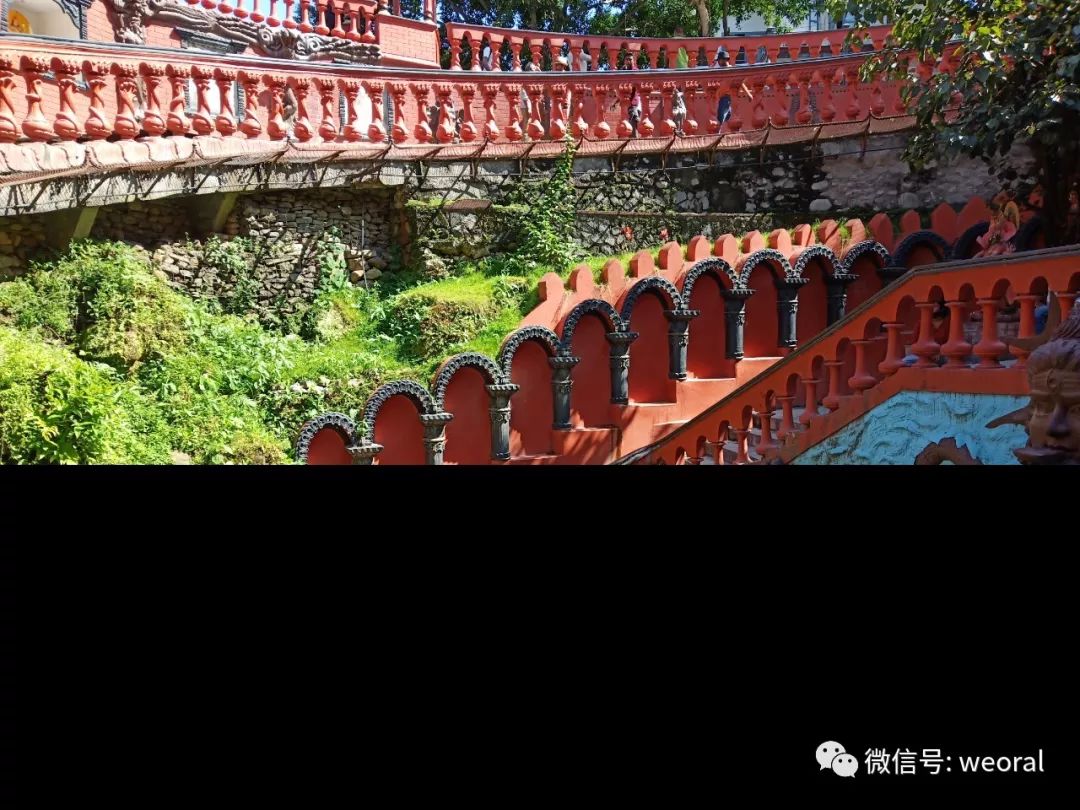 colorful city

Aug 27 Day 12, just relaxed, because the previous day was a busy daily tour day.
第十二天,尽情地休息放松,因为前一天一日游太累了。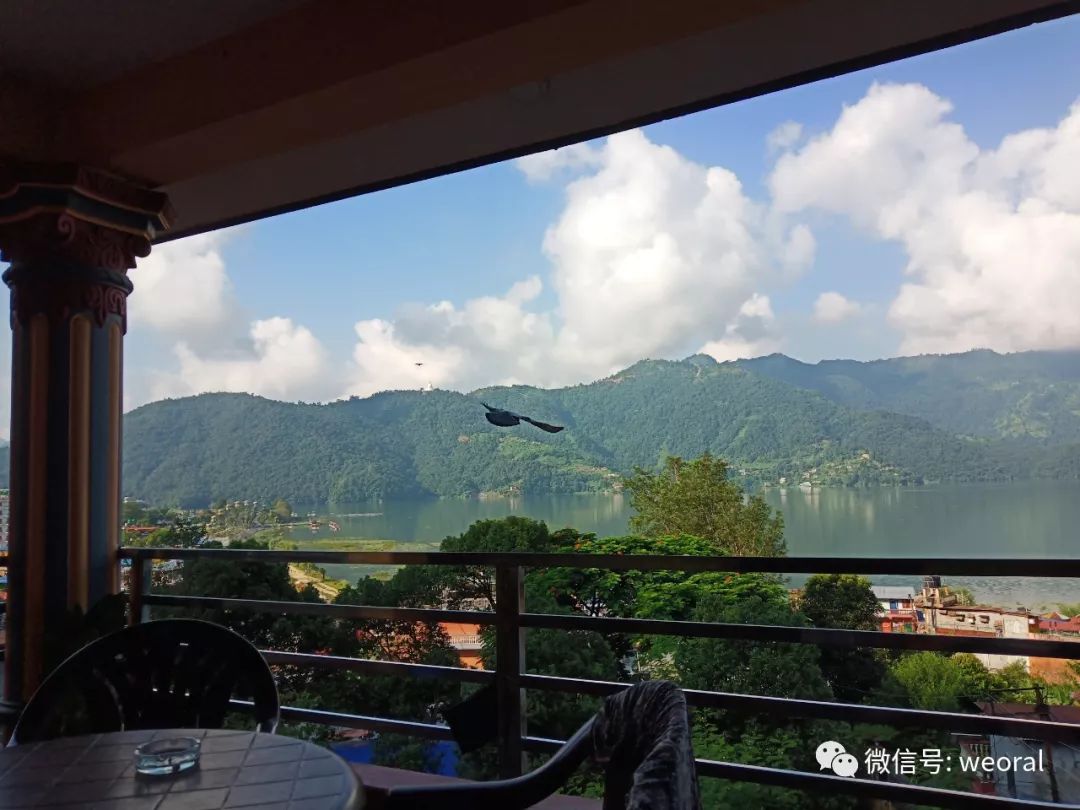 在阳台上休息,抓拍到一只海鸟飞过

Aug 28 Day 13, Lunch: Breakfast: momo, banana pancake, fried potatoes, two boiled eggs, milk tea. After breakfast, I went out looking for internet bar, when I asked a restaurant owner about it, he was so generous to let me use his laptop for free! I felt guilty by using free, so I ordered mango juice there and surfed internet by laptop for about one hour. By the way, the name of his restaurant is calked BE HAPPY. Then I came to a local small restaurant to order lunch: SUKUTI-熟牛肉, Chowmein炒面,Samosa咖喱角. Dinner: egg roll so delicious!
第十三天,早餐:MOMO,香蕉饼,炒土豆,鸡蛋,奶茶。早餐后,我去找网吧,结果没找到,我停下来问一个餐馆老板,他如此大方,让我免费使用他的电脑!我觉得过意不去,就点了杯芒果汁喝,然后用了他的电脑一个小时。有意思的是,他的餐馆名字叫HAPPY,意思是快乐!然后,我来到一家当地人特别多的餐馆点了SUKUTI(熟牛肉,水牛牛肉),CHOWMEIN炒面,SAMOSA咖喱角。晚餐时,我们吃的鸡蛋卷,实际上是鸡蛋饼里卷的红萝卜丝等蔬菜,很可口!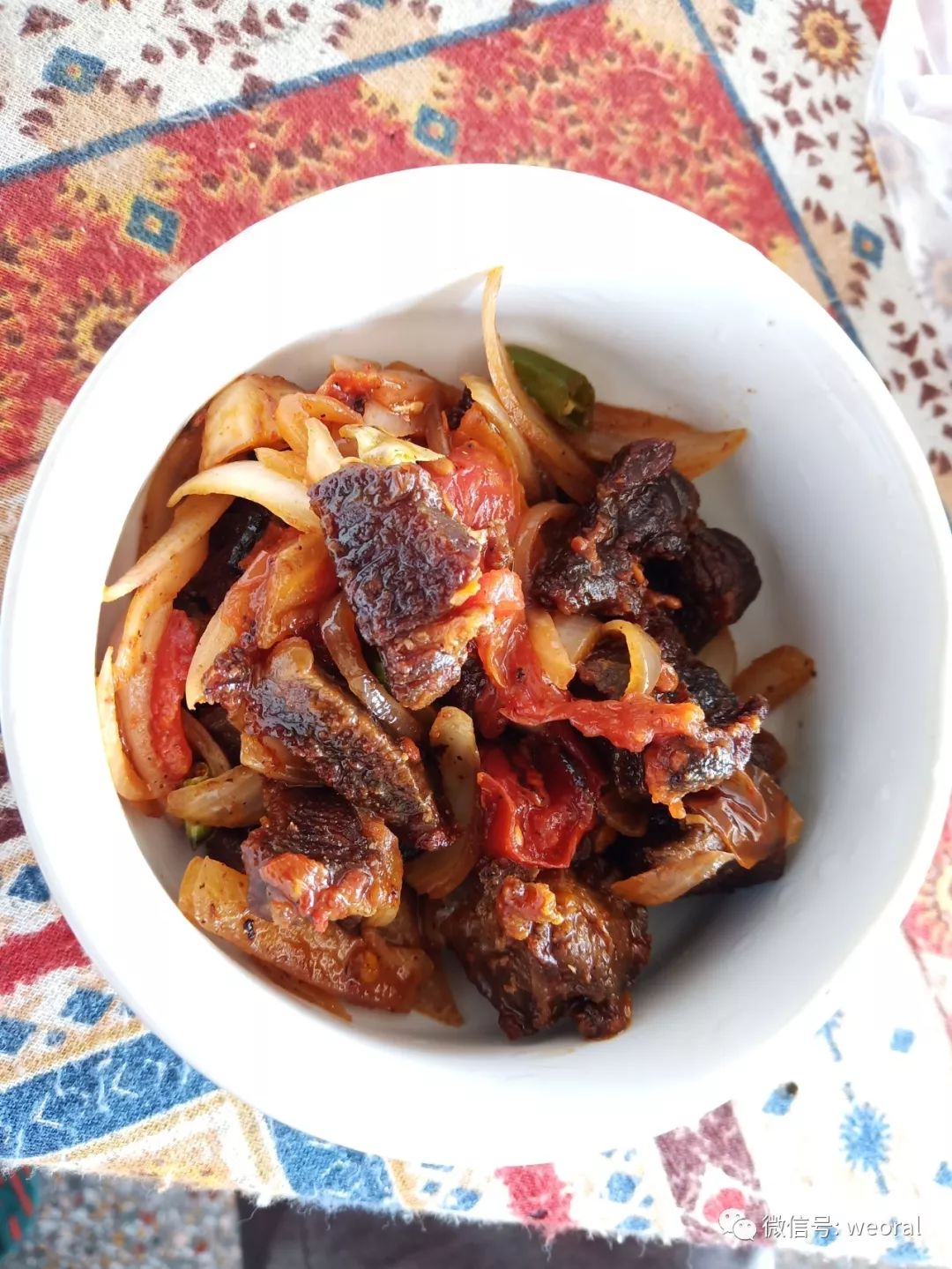 fried buffalo meat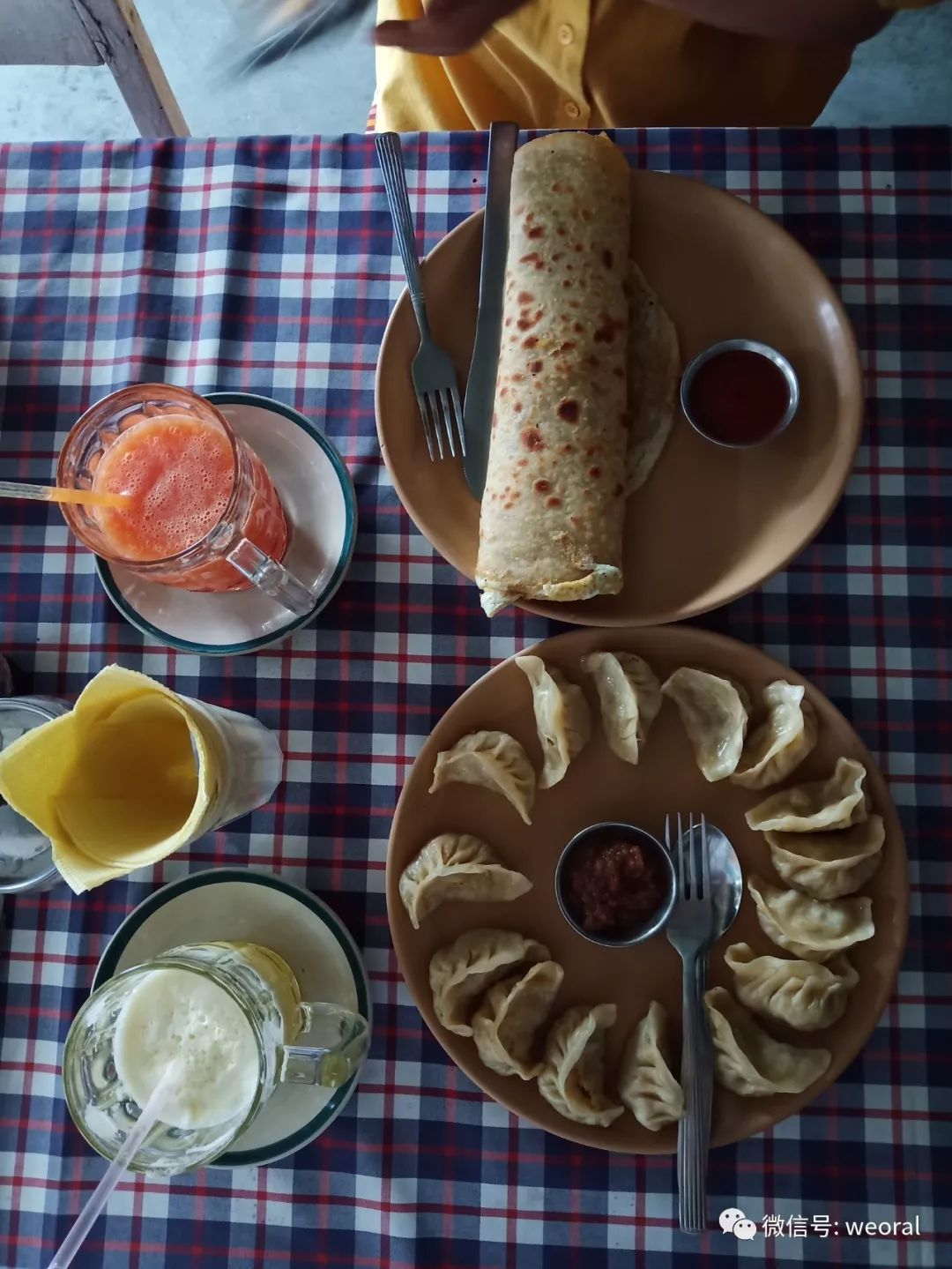 papaya juice, mango juice, egg roll, momo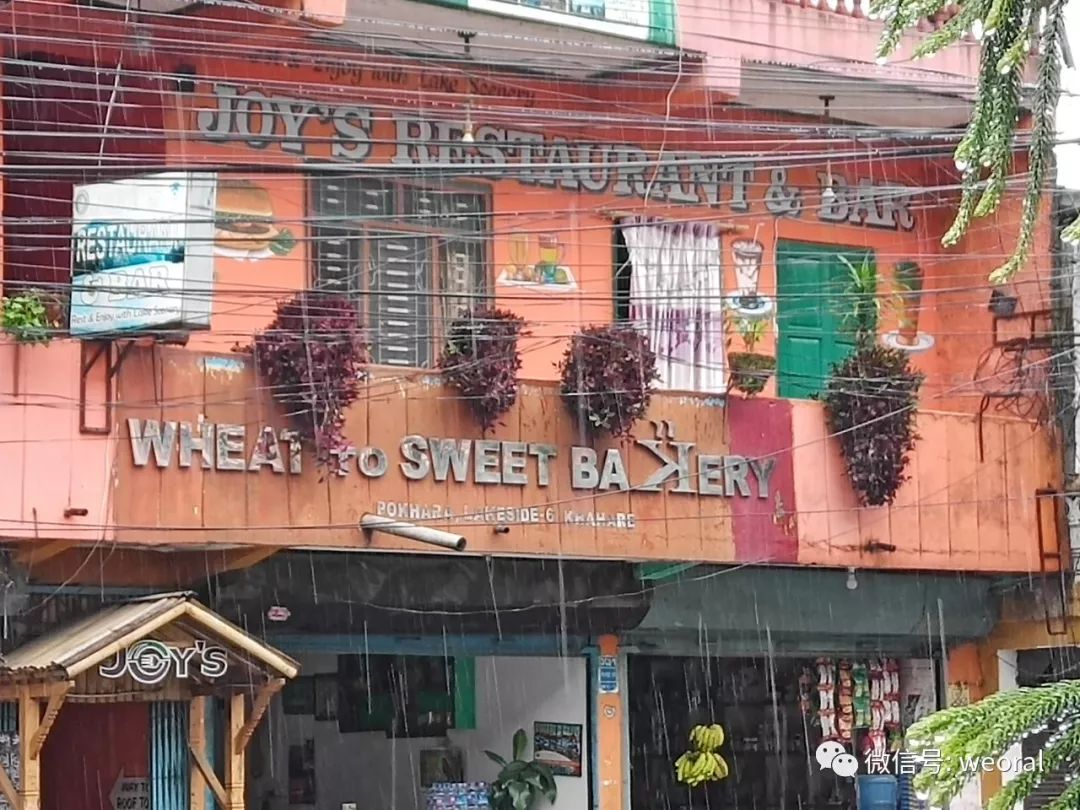 Wheat to Sweet Bakery 是什么意思?欢迎留言

Aug 29 Day 14, In the morning, we went to be happy pizza restaurant to surf Internet and had pizza topping with onion and tuna for me, pizza topping with pineapple and ham for my wife. In the evening, we went to annapurna garden to watch and listen to live music and song.

第十四天,我们又去了HAPPY比萨店去用老板的电脑上网,中午吃的比萨,我吃的洋葱和金枪鱼比萨,妻子吃的菠萝和火腿比萨。晚上,我们去了ANNAPURNA花园餐厅享用佳肴,并欣赏现场乐队演奏音乐!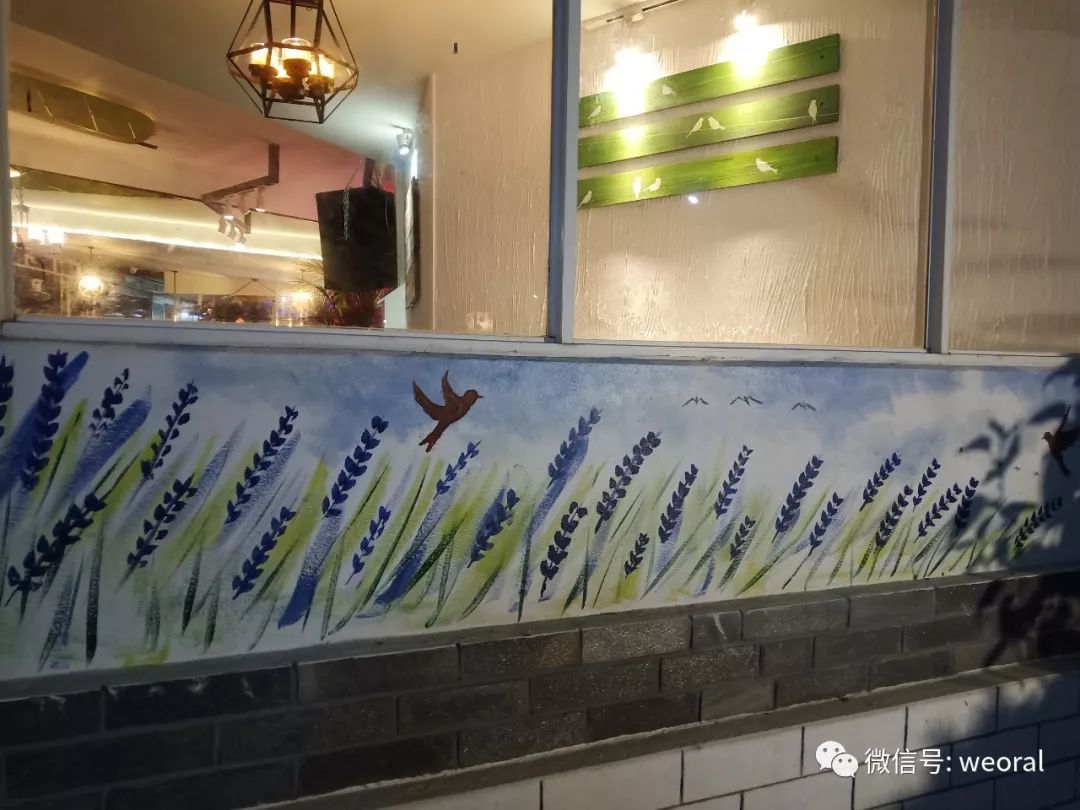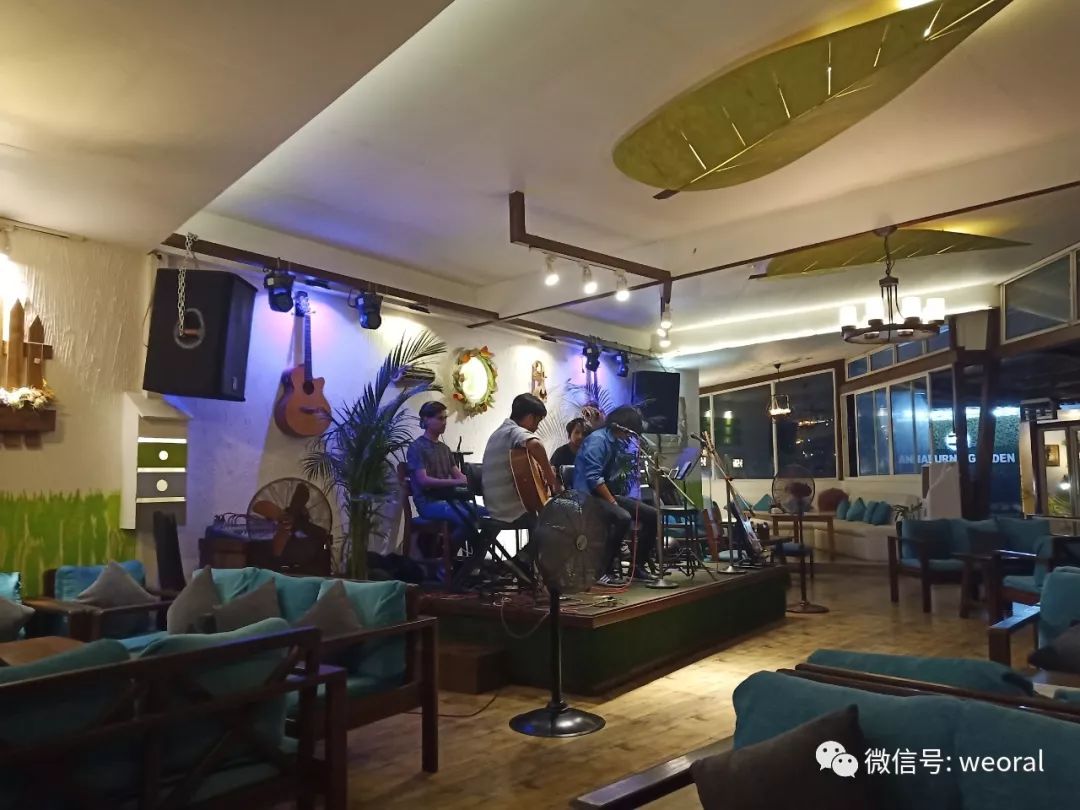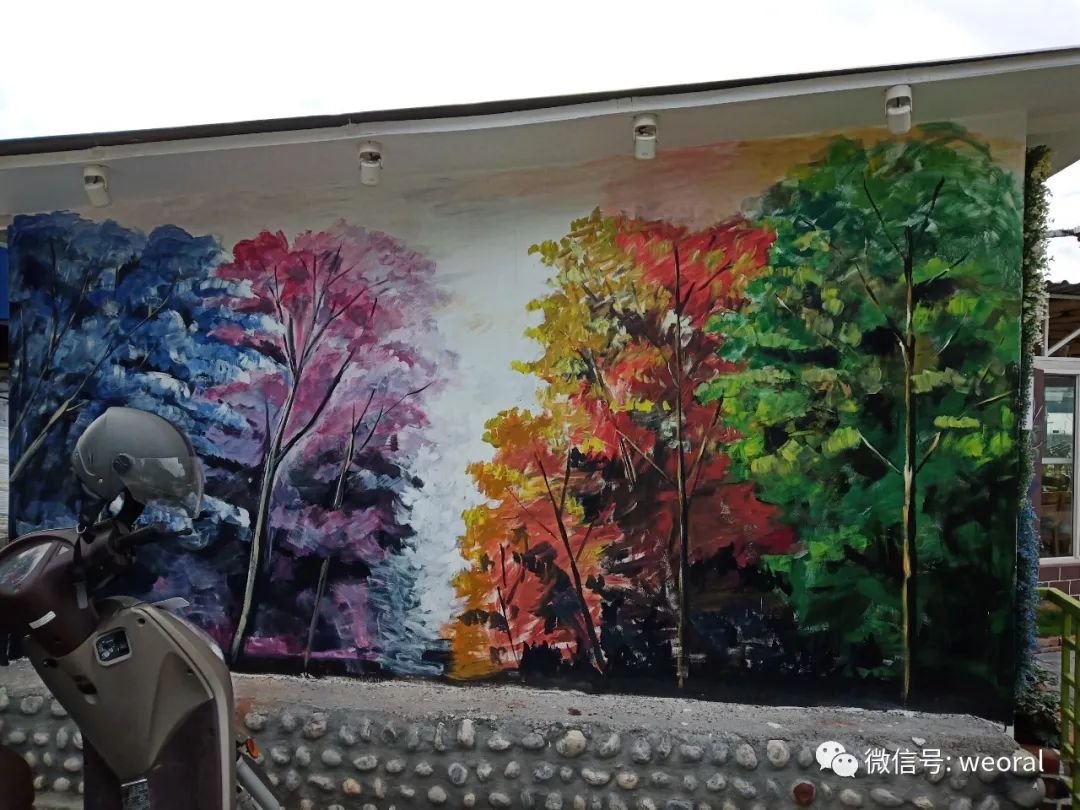 Aug 30 Day 15, After breakfast, we took local bus from station lakeside khahare to station chipledhunga to visit the biggest local supermarket called Bhat-Bhateni Supermarket, which is like a big shopping mall with four floors. Lunch: in a Tibetan Restaurant. Chicken green pepper, egg souchemein, egg fried rice, vegetable soup. We went shopping in the evening to buy Himalaya herbs supplements and Nepalese wool rug, scarf.

第十五天,早餐后,我们乘坐等地公交车由湖边KHAHARE站去CHIPLEDHUNGA站去当地最大的超市逛逛,名叫Bhat-Bhateni超市,这家超市就像商场,四层楼。午餐,我们去了一家西藏风格的餐厅用餐,青椒鸡肉、鸡蛋SOUCHEMEIN, 蔬菜汤等。晚上我们去买喜马拉雅牌中草药补充剂(印度生产)和尼泊尔毛毯、围巾等。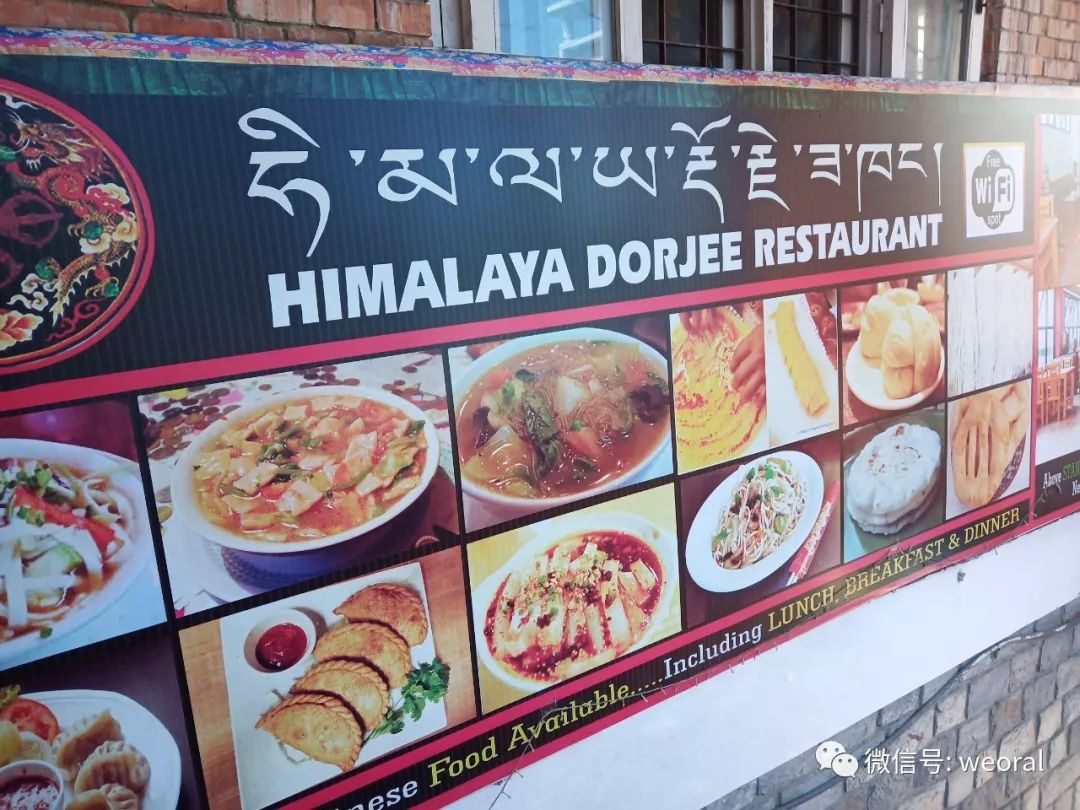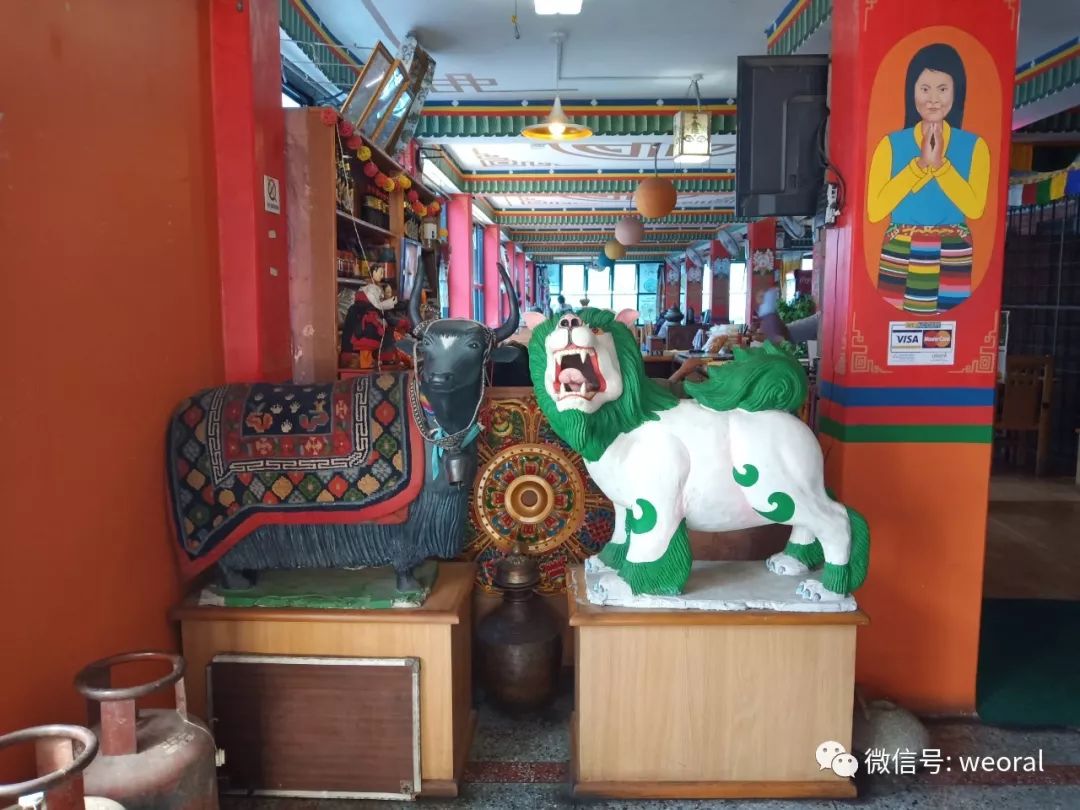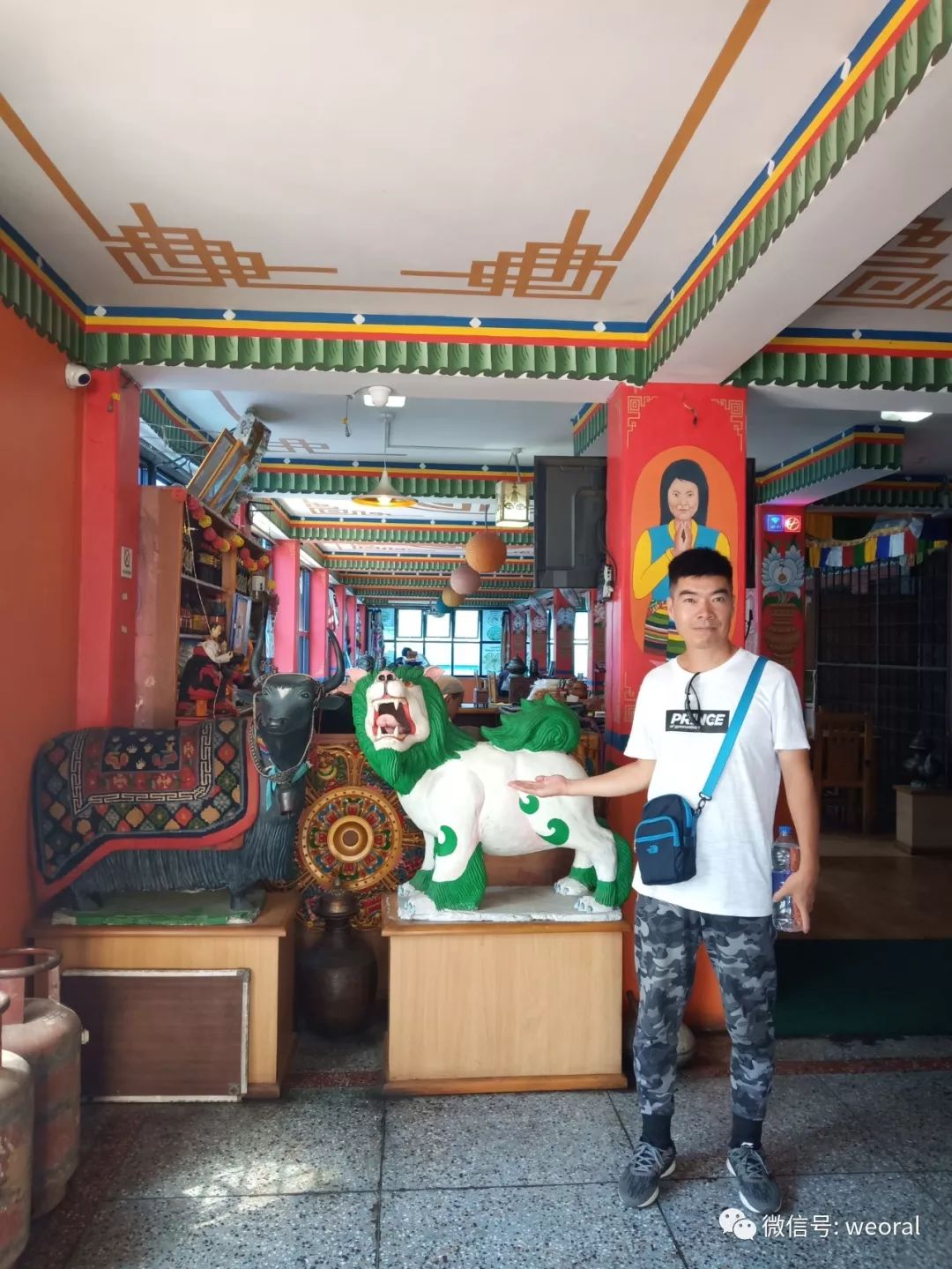 Aug 31 Day 16, It was raining heavily. stayed in hotel. In the evening we went to the bar to listen to live music band again.

第十六天,雨下得很大,所以呆在宾馆里看书。晚上,又去了那家花园餐厅听现场乐队演奏音乐。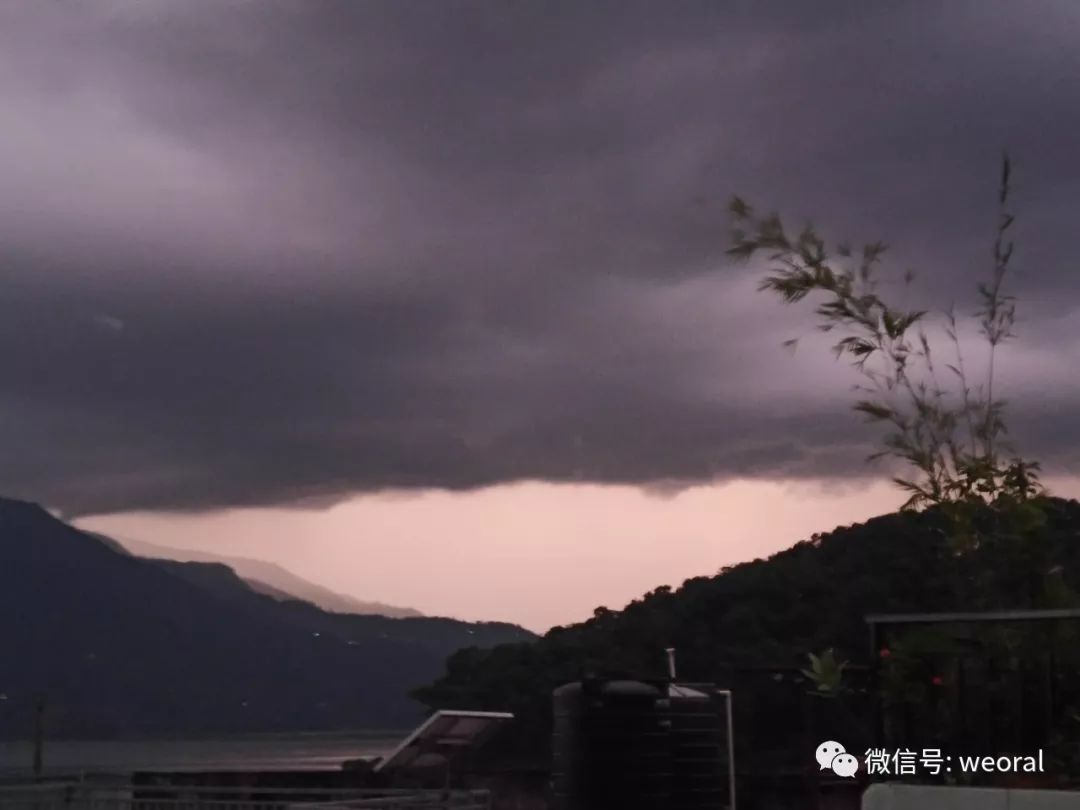 Sep 1 Day 17, Stayed in hotel to enjoy the amazing view, the lunch was served extremely slowly, we waited one hour. Then I met a foreigner who came from Switzerland in the restaurant. To my surprise, he bought his house in Pokhara with about 16 million Repee (1 million RMB). He invited me to his house the next morning.

第十七天,早上呆在宾馆阳台观赏美丽的风景,午餐上菜有点慢,等了一个多小时,我们碰到了一位来自瑞士的外国友人。让我惊讶的是,他在博卡拉买了自己的房子(大概十年前100万人民币买的),就住在我们宾馆不远的地方。他邀请我随时去他家做客,我欣然答应。
Sep 2 Day 18, Visited Mr. Swiss home. His story was amazing! As I said, everyone has an amazing life story. He had lived in Pokhara for 20 years. He came here 20 years ago by traveling, he started from his nation by the way of trekking. When he arrived in Nepal, he operated camp business, where those truck drivers could rest and have food. Then he sold his business years ago, bought his house in Pokhara, then he married a local woman, had a daughter. Amazing, right? That day was Teej festival in Nepal, which is Women's Day actually. Luch: House Special Steak, a glass of wine, momo, milk tea. Met with local waiter who is a college student and did part time job.
第十八天,我拜访了瑞士朋友的家,他的故事另外唏嘘不已!就像我说过的,每个人都有一个惊人的故事。他在博卡拉生活了20年了。他20年前以背包客的方式旅行,他穿越了很多国家,当他来到尼泊尔时,他经营着营地生意,主要是为巴基斯坦和尼泊尔卡车司机提供休息和食宿的。几年后,他卖掉了营地生意,在博卡拉买了房子(相当于国内的别墅,两层独栋的),娶了当地老婆,有一个女儿,非常令人惊叹,不是吗?恰好那天是Teej节日,相当于尼泊尔的妇女节。午餐,我们点了House 特别牛排,一杯红酒,MOMO,奶茶。服务员是一名大学生做兼职的。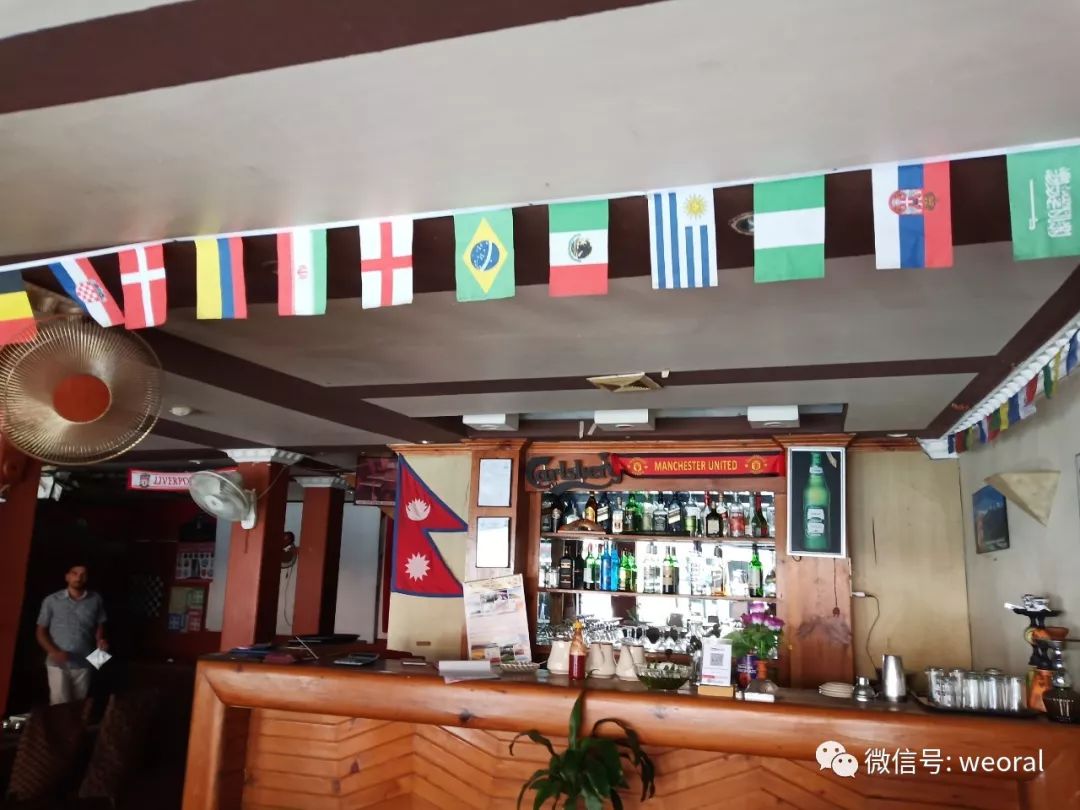 Sep 3 Day 19, We went back to Kathmandu from Pokhara by bus, which took 7hrs. We saw amazing landscape along the way.

第十九天,我们乘车花了7个小时返回加德满都,一路上欣赏着迷人的风景。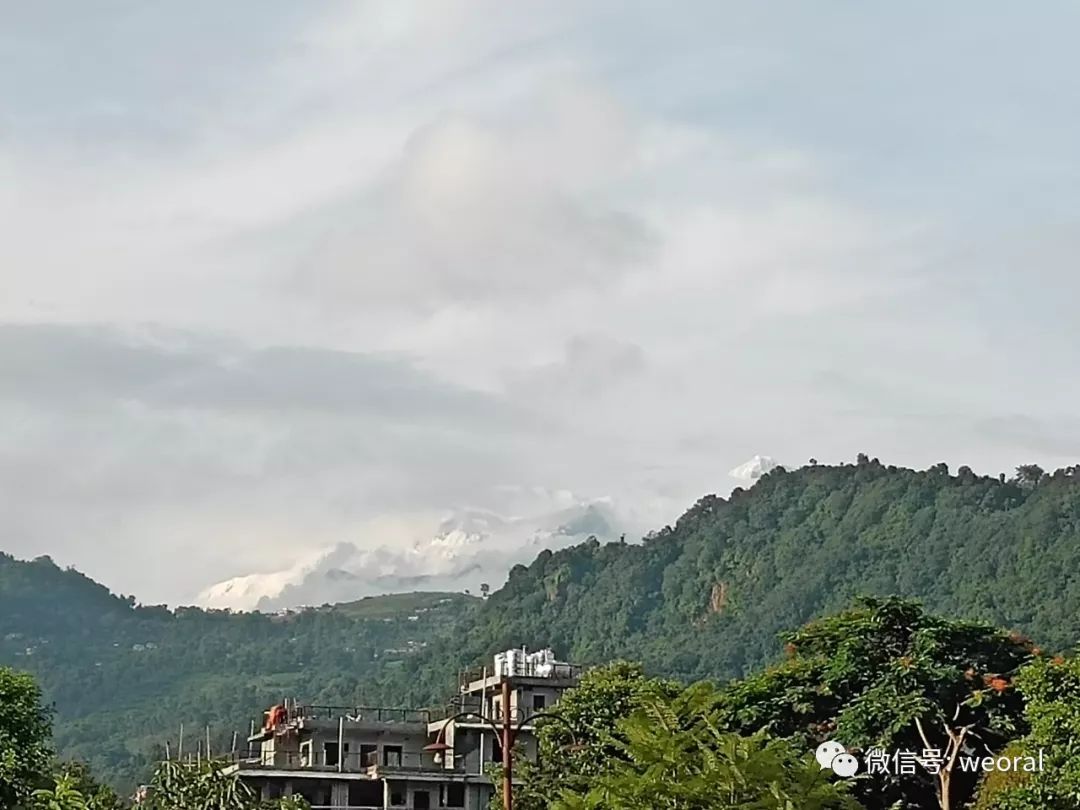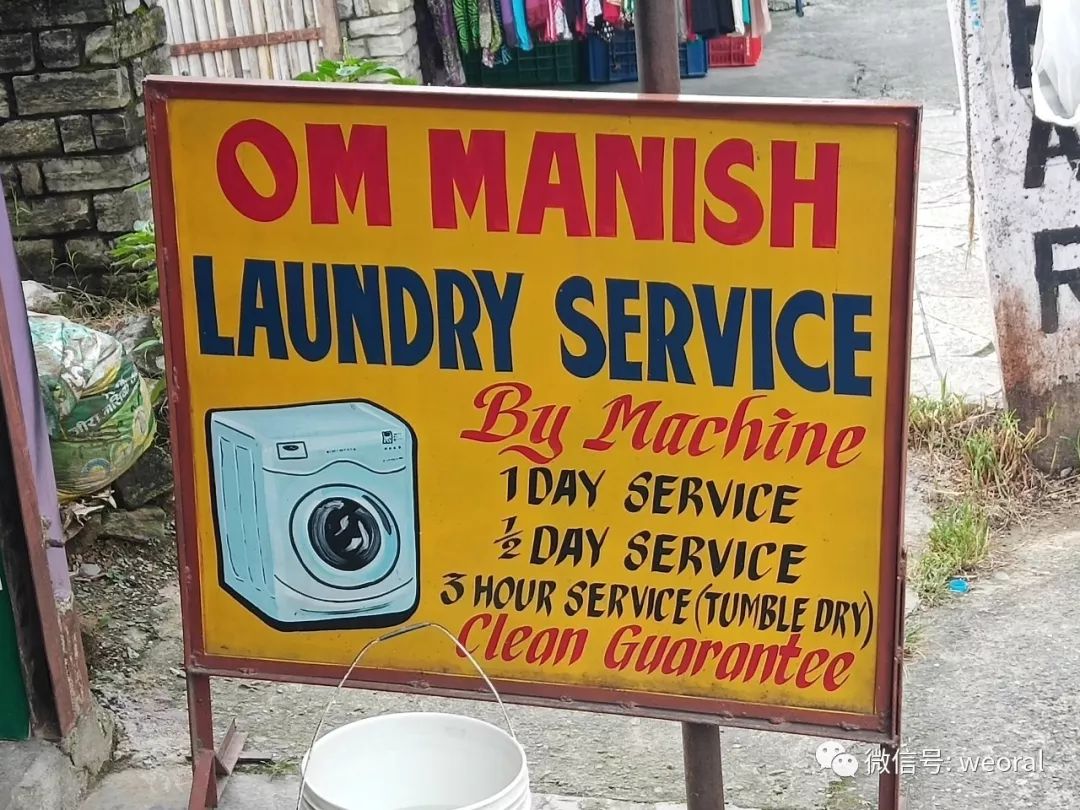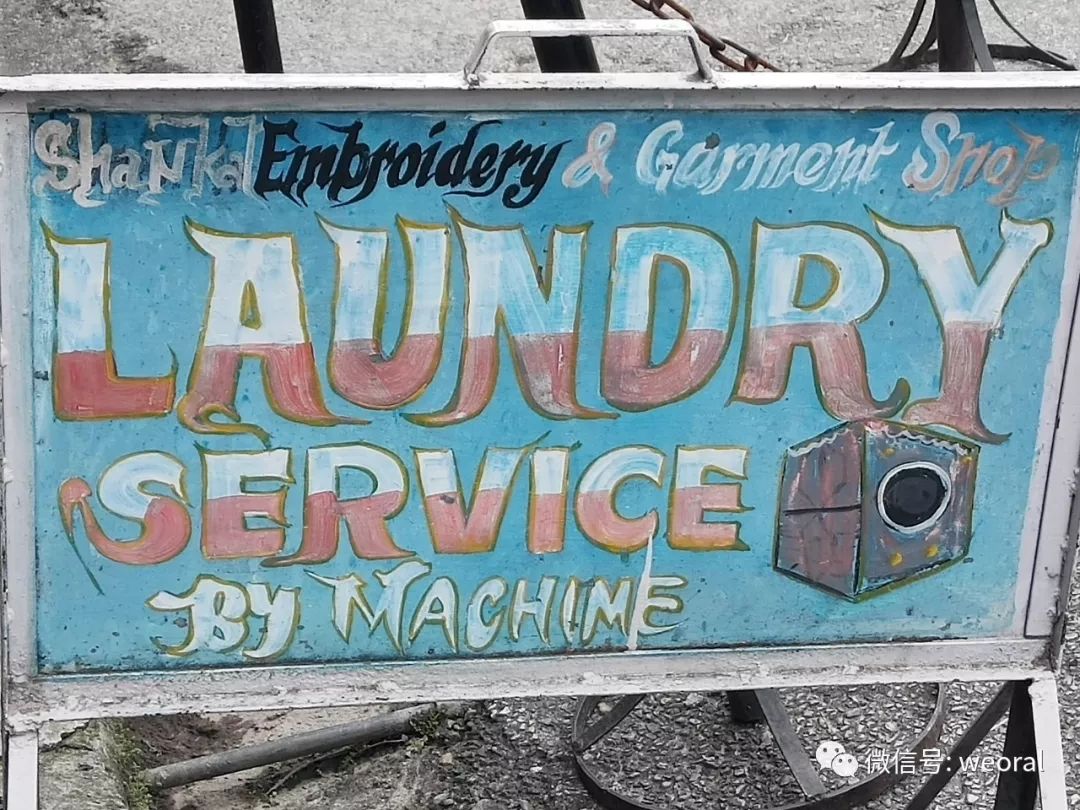 Sep 4 Day 20, I went to the consulate of PRC in Nepal to inquire something. We hung out in Thamel night market in the evening.

第二十天,我去了中国领事馆咨询事情。然后,晚上在泰米尔街逛夜市。
Sep 5 Day 21, We went to Nepal Palace Museum, where we experienced strong tradition culture about king and queen system. The hall where the king met the head of other states, the banquet hall, the bedrooms where they ever lived etc. Photos were prohibited there.
第二十一天,我们去参观了尼泊尔皇宫博物馆,非常震撼,我们感受了当地传统国王至尊的文化。那些宴会厅用来招待各国元首的,还有国王、皇后以及各国元首的卧室等。禁止拍照,所以没有照片。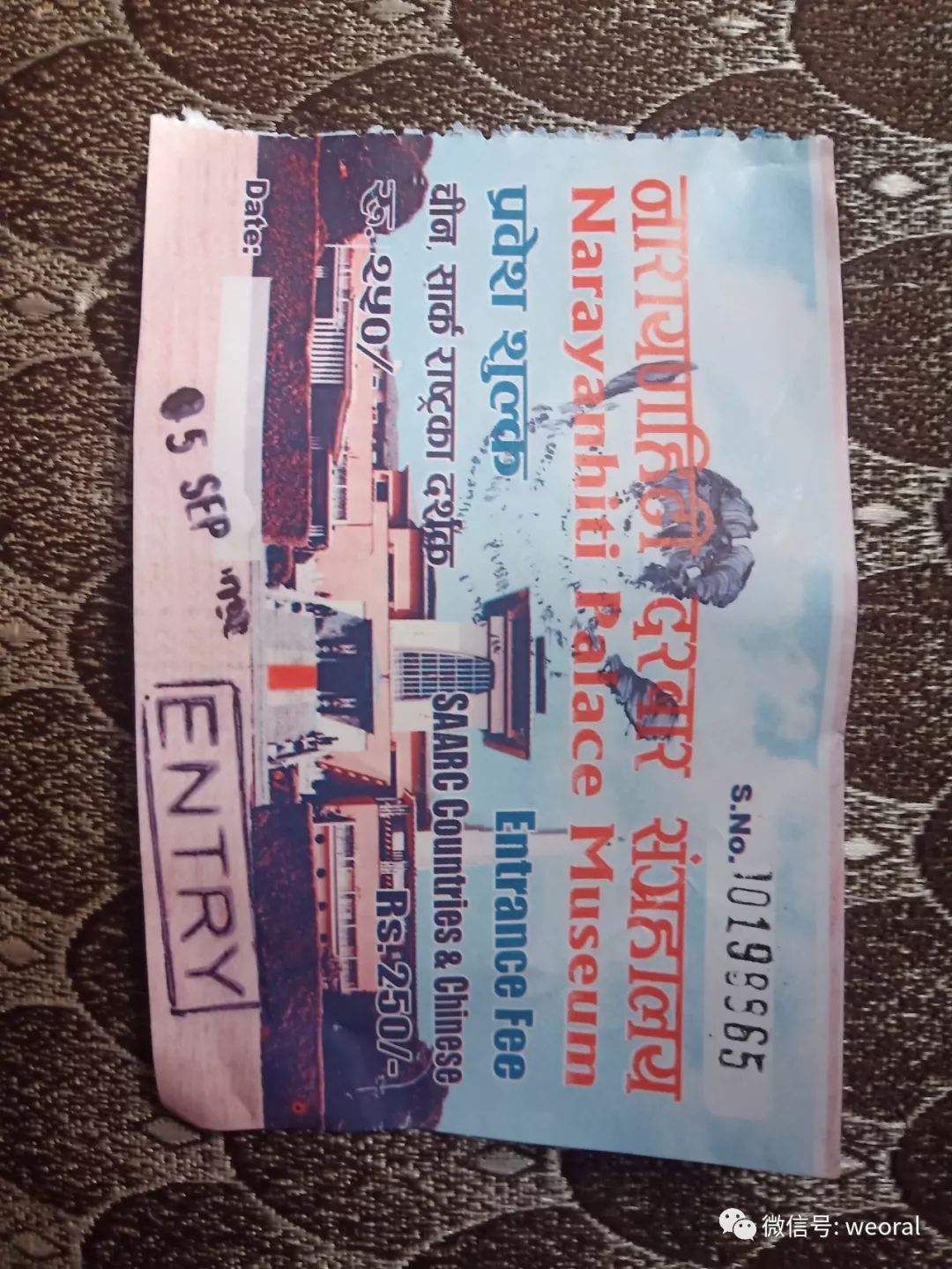 ticket to palace museum
Sep 6 Day 22, Shopped in Thamel Street, listened to local band in Black Olive Cafe & Bar while enjoyed lemon tea, French Fries, Thukpa.

第二十二天,在泰米尔街购物,晚上在黑橄榄咖啡餐厅用餐柠檬茶、薯条和Thukpa,并欣赏乐队现场演奏。
Sep 7 Day 23, Returned China by air. I saw Mount Everest, and the unprecedented rainbow in the airplane, but I didn't take photo, which was the only regret for this trip.
第二十三天,乘飞机返回中国。在飞机上,我看到了珠穆朗玛峰,还看到了有史以来最漂亮的彩虹,可惜没有拍照,是本次旅行的唯一遗憾了。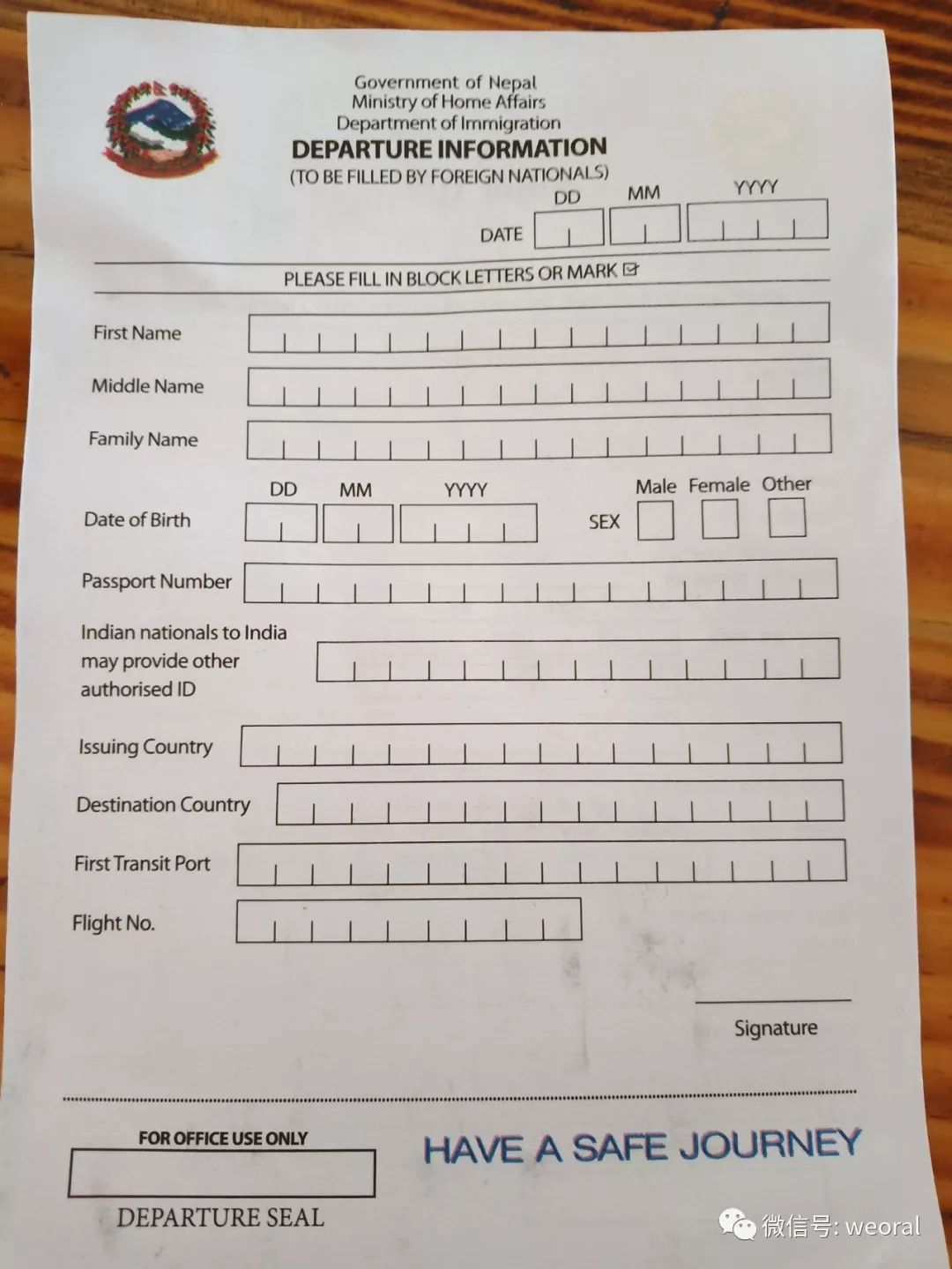 I forgot to speak some negative points about Nepal, which is that the infrastructure is rather bad, far behind China. Dust is all over on the main street, but small path is OK. The economy is like the beginning of 21st century in China.

However, the purpose of traveling is to experience the local custom and local culture, and let the Himalaya Snow Mountain wash up and refresh your mind that aspires sacred peace, so it is worth your visit.
忘记吐槽尼泊尔了,尼泊尔的基础建设很落后,加德满都主路上灰尘满天飞,小路上就好了。博卡拉还是干净的。尼泊尔的经济相当于国内21世纪初期阶段。
但是,旅行的目的是为了体验当地的风土人情和当地文化,让遥远的喜马拉雅雪山洗礼渴求圣洁平静的心,所以,尼泊尔还是值得一游。
仅1%人知➜长按二维码➜识别➜关注