2nd NEW SILK ROADS WORLD FORUM 2020
16 – 17 March 2020Kota Kinabalu Malaysia
About The New Silk Roads World Forum
The New Silk Roads World Forum is an independent and non-political entity. Surpluses from our activities will go to good causes such as scholarships, medical research and others.
The main goal of the New Silk Roads World Forum is to connect countries, cities, peoples and promote positive activities along the New Silk Roads.
New Silk Roads World Forum Speakers Include
The Honourable YB Datuk Darell LEIKINGFederal Minister of Trade and Industry, Malaysia. Tan Sri Dr. Michael YEOH President, Kingsley Strategic Institute, Malaysia; Chairman, WCBES Organising CommitteeDr. Geoffrey CHOWFounder & Chief Strategist, New Silk Roads World Forum.Professor Kriengsak CHAREONWONGSAKChairman, National Building Institute of Thailand; Harvard Professorial Fellow; Former Advisor to the Prime Minister and Former Member of Parliament of Thailand.Professor Joseph LIOW Chin YONGDean, College of Arts and Humanities, Nanyang Technology University, Singapore.Professor Paul Tae-Woo LEEDirector, Maritime Logistics and Free Trade Islands Research Center, Ocean College, Zhejiang University, China.Professor Tim WINTERProfessor of Critical Heritage Studies, University of Western Australia.Professor James CHINDirector, Asia Institute Tasmania, University of Tasmania. Associate Professor Ferry JIEAssociate Professor in Supply Chain and Logistics Management, School of Business and Law, Edith Cowan University, Australia. Mr. Ben NAIRExecutive Director, KASI Group; Managing Director, BCMC Sdn Bhd., Malaysia Ms NG Yeen Seen Chief Executive Officer, Centre for Research, Advisory and Technology, MalaysiaDr. HU ZhengyuDirector, Sustainable Development and Blue Economy Research Department, China Development Institute.Dr. Michael WANGResearcher, SCION Research, New Zealand.Dr. Vanaja KARAGIANNIDISSenior Management Lecturer, Melbourne Institute of Technology. Mr. Vincent WONG Chairman, Mulia Global Sdn Bhd
"Along the New Silk Roads: Culture | Commerce | Dialogue | Developments"
The 2nd forum will be held in Kota Kinabalu, Malaysia in 2020. The Forum will be accompanied by three roundtable sessions: New Silk Roads Youth Roundtable; New Silk Roads Women Roundtable; and New Silk Roads Business Entrepreneurs Roundtable. The 3rd forum will be held in China or Singapore. The two-day forum in 2020 focuses on the dimensions and aspects of culture, commerce, tourism, blue economy, and sustainable development, of both the overland and maritime Silk Roads. The New Silk Roads, also known as the Belt and Road Initiative in China, envisaged connecting corridors spanning over 68 countries from China, across Central Asia, the Middle East, Europe, and Africa. It is also a series of mega-projects with an estimated value of $1 trillion over the next few years. More trillions of dollars are expected to be invested in the decades to come. It is symbolically a revival of the ancient Silk Roads trading routes. The New Silk Roads program comprises of the building of roads, railways, bridges, gas pipelines, ports, airports and power plants, in addition, Special Economic Zones. Just as important are the impacts this program of infrastructure mega-projects have over the decades – impacts on economic activities, cultures, communications, technologies, environment, and much more. The forum in 2020 is organised for, and participated by business and government leaders; policy-makers; business entrepreneurs; practitioners; academics; thought leaders; and all interested individuals and organisations. It is envisaged that the two-day forum will focus on the following streams: 1) Social and cultural aspects of the New Silk Roads; 2) Trade and business along the New Silk Roads; 3) Security and legal dimensions of the New Silk Roads; 4) Infrastructure of the physical New Silk Roads, logistics, and supply chain within them; and 5) Developments and diversity of the New Silk Roads. In addition, there will be a trade exhibition and an art exhibition. The collaboration partners for the 2020 event are think-tanks from China, Singapore, UK, Malaysia and Australia. They include: Oxford OBOR (Oxford University), UK; Sabah Maritime Silk Route Research Society, Malaysia; Global Association of International Artists (GAIA), Australia; Asia Institute Tasmania (AIT), Australia; and the well-known S. Rajaratnam School of International Studies (Nanyang Technology University) in Singapore that has several think-tanks within the school. The pooling of expertise and experiences from several think-tanks make for an exciting and interesting multidimensional understanding of the New Silk Roads.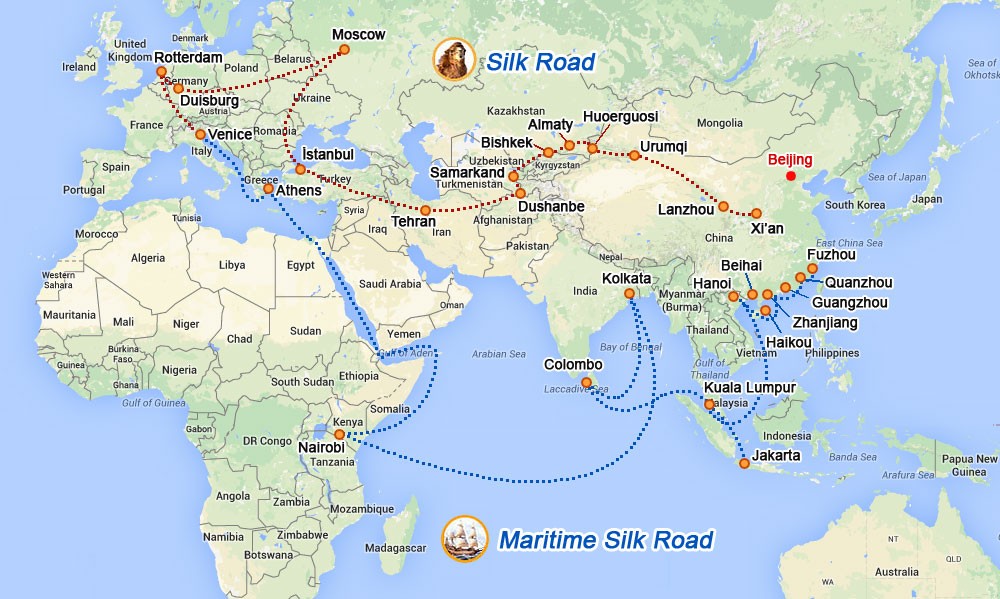 More About The Silk Roads
For more info, please view:
http://onebeltoneroad.work/OBOR/